The recall states that Ikea Kullen dresser is not stable if not anchored to a wall, posing the risk of injury or death to children and are not in compliance with voluntary performance standards.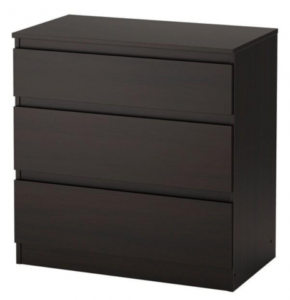 This recall is for the Kullen 3-drawer chest. It is 28 3/8 inches tall, sold in black-brown or birch colors, and weighs approximately 45 pounds. 

The article numbers for the KULLEN 3-drawer chest are 600-930-58 (birch), 501-637-54 (black-brown), and 803-221-34 (black-brown). A 5-digit supplier number, 4-digit date stamp, IKEA logo, country of origin and "KULLEN" are printed on the underside of the top panel or inside the side panel. 

Recall Notice from CPSC
Stop Using Immediately
Consumers should stop using the Kullen 3-drawer chest immediately if it is not properly anchored to the wall. It should be kept away from children. Consumers can contact IKEA for either a full refund or a free wall-attachment (anchor) kit. 
For refund:  IKEA will accept in-store returns or arrange for free pick up of the chests for a full refund. 
For wall-attachment (anchor) kit: Consumers can order a free wall-attachment (anchor) kit. Consumers can install the anchor themselves or IKEA will provide a one-time, free in-home installation service, upon request. 
Reports of Tip-Overs
IKEA has received six reports of tip-over incidents involving KULLEN 3-drawer chests that were not anchored to the wall, including one report involving a minor cut and one report involving minor cuts and bruises.
The chests were only sold at IKEA stores nationwide and online at www.ikea-usa.com from April 2005 to December 2019 for about $60.
Ikea recently reached a $46 million settlement with the family of a toddler killed by a dresser made by the company. According to the CPSC, at least eight children have been killed by dressers made by Ikea.
IKEA Still Selling Dangerous Dressers
IKEA Recalling 27 Million Chests and Dressers for Due to Tip-over Deaths