Florida's Emergency Contact Infor­mation System will allow you to provide emergency contact information to law enforcement in the event of an emergency. This infor­mation may save crucial time if ever it becomes necessary to contact family members, or other loved ones. This service is only available to individuals holding a current Florida Driver License or Florida Identi­fi­cation Card.
Over 14,557,777 Floridians have registered and it has been used countless times to save lives. The Emergency Contact Information system allows Floridians to voluntarily provide emergency contact information online, giving law enforcement immediate access to this information and making it easier to speak with someone quicker in case of an emergency.
How do I register?
Anyone with a current Florida driver's license or ID card may enter up to two contacts at a driver's license office, including those operated by tax collectors or by going to the ECI webpage. Registration is free.
Typically, law enforcement uses driver's licenses and license plates to locate a victim's relatives, but sometimes that information is outdated or incorrect and delays notifying loved ones. In the most extreme emergency cases, getting in touch with relatives or friends expeditiously could mean the difference between being able to say goodbye — or not — to a loved one.
To Inform Families First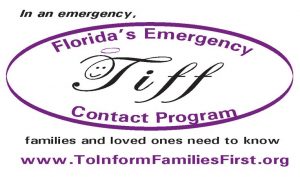 The database was launched after Christine Olson's daughter Tiffiany Olson was involved in a traffic crash causing fatal injuries when the motorcycle she was a passenger on collided with another vehicle. Ms. Olson was not notified of Tiffiany's passing for several hours and was not able to say her last goodbyes. Ms. Olson was heartbroken. She then found the silver lining to an otherwise dark cloud. Ms. Olson, with the assistance of State Representative Bill Galvano from Bradenton District 68, began pushing for emergency information to be added to a person's driver's license or identification card.  Christine Olson founded To Inform Families First (TIFF). The TIFF initiative is highly recognized outside the State of Florida and has received several awards. The Ash Institute at Harvard voted the ECI program one of the top 50 best government innovations.
If you have not registered, but have a Florida driver's license or identification card, you can click here and enter your emergency contact information.