Kia Soul and Selto vehicles have been recalled for engine stall and fire risk. Some may require replacement engines.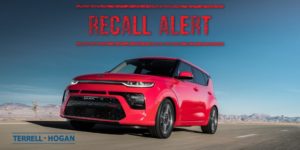 Safety Recall Report 21V-259 reports recalls on particular 2020-2021 Kia Soul and 2021 Kia Selto vehicles.
The Defect
Improperly heat-treated piston rings may result in engine damage, leading to a stall and crash. Oil may also leak onto hot exhaust surfaces, increasing fire risk.
The Remedy
Owners will be notified by mail beginning June 11. Dealers will inspect and, if necessary, replace the engine free of charge.
Enter your 17-digit VIN on the NHTSA's website to determine whether your vehicle has any open recalls.
At Terrell • Hogan, protecting families from unforeseen accidents and personal injury is what we do.  Auto accidents in Jacksonville occur every day and can range from minor inconveniences to collisions resulting in major injury and death. We want to help make sure that if you or your loved ones are involved in an automobile accident your rights are protected.
Related 295,000 Kias Recalled for Fire Risk