Honda has received 13 reports of the generator's inverter assembly short-circuiting while in use, including 10 reports of fire.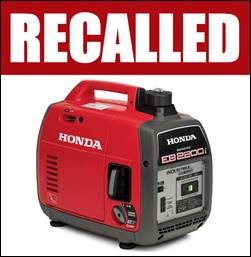 The U.S. Consumer Product Safety Commission (CPSC) documents Safety Recall Report 20-090, reporting recalls on 4 models of Honda portable generators. They cannot estimate the percentage that will have the defect.
The Defect
The portable generator's inverter assembly can short circuit with the presence of salt water. This causes the unit to smoke or catch fire, posing fire and burn hazards to consumers.
The Remedy
Consumers should immediately stop using the recalled generators and contact a local authorized Honda Power Equipment service dealer to schedule a free repair. Consumers who took part in the previous recall for these generators should also take part in this recall.
At Terrell • Hogan, we represent victims who were injured by defective and dangerous products. Many of those lawsuits have led to safety changes in products. We believe it is very important to try to help prevent injuries and wrongful deaths, so we will continue to publish information about recalls of defective and dangerous products.