More than 20,000 units of the Grizzly Industrial tool kits are under recall.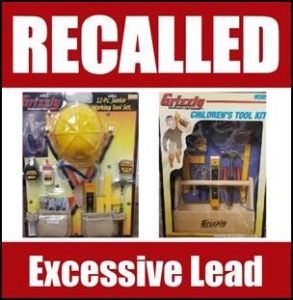 The U.S. Consumer Product Safety Commission (CPSC) documents Safety Recall Report 20-098, reporting recalls on 2 Grizzly toy tool kits for excessive lead and failing to meet safety standards. The toys were sold on www. Grizzly.com and Amazon.com from September 2002 through November 2019 for about $20.
The Defect
Children's tool kits are under recall because they may contain excessive levels of lead. Also, the toy goggles and hardhats that come with the Grizzly Industrial kits do not meet toy safety standards.
The Remedy
The tool kits should be immediately taken away from children. Consumers can contact Grizzly Industrial for a refund. Grizzly Industrial can be called toll-free at 888-615-7944 anytime or emailed at recalls@grizzly.com.
If you are concerned that a toy or children's product has been recalled, click here.
Every day we represent victims who were injured by defective and dangerous products. Many of those lawsuits have led to safety changes in products. Sadly, the changes only came after injuries or deaths. Because we strongly believe it is important to try to help prevent injuries and wrongful deaths, we will continue to publish information about recalls of defective and dangerous toys and children's products.