As we all do what we can to put 2020 behind us and move into 2021, it's fair to reflect on this unprecedented year of the Covid-19 pandemic – the new normal of social distancing, zoom meetings and closed courthouses, and how we got through it together. Community service helped with that effort.
Through all the struggles Covid caused, our team stepped up and found new initiatives to thank frontline healthcare workers and help nursing home residents communicate with their loved ones. We also continued volunteering with programs serving the community.
Evan & Arlene Yegelwel Recognized for Jewish Education Leadership
Terrell • Hogan partner, Evan Yegelwel, and his wife, Arlene, received the Rabbi David Gaffney Leadership in Education Award for their years of generosity and tireless support of Jewish education on the First Coast. They were honored virtually at the event, Shir Madness, a Jewish music and arts festival that benefits children attending the Galinsky Academy. Because of the COVID-19 pandemic, the festival took place virtually this year.
Feeding Our Healthcare Heroes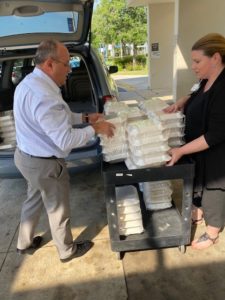 During the complicated and early days of the pandemic, many wanted to help but weren't sure how, especially with social distancing. That's why Feed Our Healthcare Heroes was created. Our law partner, Dr. Fadi Chakour, who is also medical doctor, established Feed Our Healthcare Heroes as a way to provide meals to thank healthcare workers serving on the frontlines of the pandemic. It has been a community-wide effort with businesses and individuals alike jumping in to take part. The partnership with restaurants D&G Deli and Grill, European Street Café, Clara's Tidbits, and Cross Creek Steakhouse served up a much-needed boost to our local businesses too.
Connecting Families During Covid
Video conferencing with families and friends has become a way of life for many during COVID-19, but for those living in nursing homes and assisted living facilities, the simple act of seeing loved ones is often a challenge. Facilities have limited — if any — equipment. Initiating or receiving video calls requires significant advanced planning. That's why we donated four video conferencing units () for two local nursing homes, making it easier for residents to connect to their loved ones who are restricted from visiting. Terrell • Hogan's donation is part of a national outreach event known as the Injury Board's Day of Action — a collaborative effort by the nation's leading personal injury and wrongful death law firms to make a difference in the daily lives of their local communities.
Helping the Feed our Community
Our holiday tradition continued this year as our attorneys and staff volunteered at Farm Share Jacksonville, a food distribution organization serving 11 counties throughout northeast and central Florida. Our team unloaded pallets in a warehouse and bagged hundreds of pounds of food for distribution to local families in need. With the pandemic impacting so many families, having volunteers bag food items for distribution is critical to the mission of the organization. We were honored help Farm Share provide families with food for the holidays and beyond.
Finding Foster Kids a Forever Home 
Our law partner, Alan Pickert, served as guardian ad litem to two siblings in foster care. He was thrilled to be part of a team that culminated with the brother and sister's adoption into a loving family as they celebrated their first Christmas together.
Helping Veterans
For the 6th year, our attorneys volunteered their time and legal expertise at Jacksonville Area Legal Aid (JALA) to help veterans in need of legal assistance. The Veterans Legal Collaborative is held every month at JALA's Jacksonville Outpatient Clinic on Jefferson Street. Our attorneys met with veterans one-in-one to discuss their legal issues.
Supporting MADD
Terrell • Hogan's Distracted Driving Awareness Campaign sponsored Walk Like MADD, a virtual event this year because of the pandemic. Our distracted driving efforts align with MADD's programs and we were honored to support MADD's efforts to combat impaired driving. MADD sets the model for saving lives. Drunk, drugged and distracted driving are all preventable, and all too often, they are deadly.
Distracted Driving Awareness
We continued Terrell • Hogan's Distracted Driving Awareness Campaign by giving free presentations to employers, non-profits, civic groups and students through virtual presentations. It explores the dangers and risks business owners face if they or an employee cause a driving distracted accident that injures or kills. To date, we have reached more than 10,000 people through our two presentations: For the Workforce, for adults, and End Distracted Driving, for teens.
Running for Positive Change
On November 19th, attorney Bradley Bodiford participated in the Freed to Run 4.0 marathon to benefit the Northeast Florida Medical Legal Aid Partnership between Jacksonville Area Legal Aid and the Baptist Health Foundation.
Toy Safety Reminders
Wayne Hogan reminded consumers about the importance of toy safety and the ten toys that made it on W.A.T.C.H.'s 2020 "10 Worst Toys" list. W.A.T.C.H. stands for World Against Toys Causing Harm, Inc.
He warned about toy safety hazards: projectiles such as dart guns and sling shots that may cause eye/facial injuries and small removable parts that are choking hazards for kids 3 and younger. Another common hazard is toxic toys that contain lead, cadmium, phthalates or substances that could cause allergies. He also touched on a safety concern of buying online: the inability to see and inspect the toys and read the packaging and warned consumers shoppers to be aware of buying second-hand toys from sites such as Craig's list and eBay that may have been recalled.
Our Commitment
At Terrell • Hogan, we are strongly committed to public service and believe that giving back to the community is an important part of our professional responsibility. As we continue seeking justice for the injured, we also are looking forward to continuing to serve our community in 2021 and years to come.
From everyone at Terrell • Hogan, have a happy and safe 2021!