Injury Board Day of Action – Connecting Loved Ones. We are proud to provide video conferencing devices to help seniors connect with loved ones.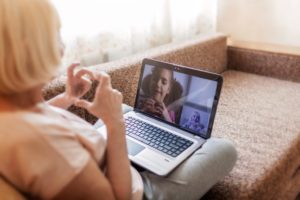 Video conferencing with families and friends has become a way of life for many during COVID-19, but for those living in nursing homes and assisted living facilities, the simple act of seeing loved ones is often a challenge. Facilities have limited — if any — equipment. Initiating or receiving video calls requires significant advanced planning.
The Terrell • Hogan personal injury and wrongful death law firm is working to help change that. It has donated four video conferencing units to two local nursing homes, making it easier for residents to connect to their loved ones who are restricted from visiting.
"We've been hearing that 'we're all in this together,' for months," said Wayne Hogan, Terrell • Hogan President. "But for so many who are living in group living and care settings being together is no longer an option. We want our donation to help parents, grandparents, aunts and uncles connect with those they love."
Terrell • Hogan's donation is part of a national outreach event known as the Injury Board's Day of Action — a collaborative effort by the nation's leading plaintiff's attorneys to make a difference in their local communities.
"When we're at our best, attorneys help people," said Attorney Tom Young, founder of Injury Board. "Most often, that help centers on providing legal counsel and accomplishing a client's legal goals. But good attorneys are also servant-leaders. They serve their community. In these challenging, disconnected days, our member attorneys and their firms across the country are doing just that with Day of Action – they're serving and they're leading. And more than that, we're helping some of our communities' most vulnerable family members stay connected."