Joy Purdy of WJXT investigated bounce house safety and how wind gusts from Florida's storms can be dangerous. She interviewed attorney Chris Shakib for the story. He has represented consumers who were injured by inflatables.
Wind Gust Danger
To test bounce house safety when encountering wind gusts, the reporter conducted an experiment. She used airboats to simulate wind gusts to see how two properly secured bounce houses would hold up. The first bounce house, a small one available for purchase at retail stores, became airborne at 23 m.p.h. The second one, which was larger and available for rent, began lifting off the ground at 27 m.p.h.  The test was stopped to avoid damaging it.
Bounce House Safety
Having an adult monitor to watch the bounce house, not over populating it, properly securing stakes and carefully reading directions for proper set up are a few tips to ensure safety. Shutting down the bounce house and deflating it when wind gusts begin is also important.
If There Is an Accident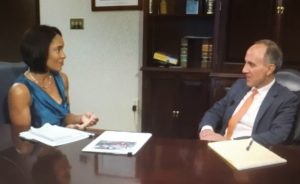 There is little oversight of operators of inflatables, especially in Florida so the responsibility is on consumers to research the rental company online and thoroughly read the operator's manual if buying one. If renting, Shakib recommends inquiring about how employees are trained and for proof of liability insurance. Call the insurance carrier to confirm insurance is active. He also discussed personal liability if there is an accident at your home. Click here to watch the uncut interview with Chris Shakib.
At Terrell • Hogan, protecting families from unforeseen accidents and personal injury is what we do every day. We know that it's best to try to find ways to prevent injury and loss before they happen. So, until there's a solution to this worrisome problem, Terrell • Hogan will continue to help keep you informed and safe.