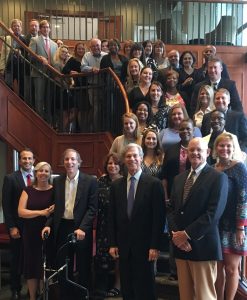 Our firm recently celebrated Wayne Hogan receiving the American Association for Justice 2017 Lifetime Achievement Award. Our firm is like family and what matters at Terrell • Hogan is that everyone here shares a passion for the mission to represent our clients as they seek justice.
At Terrell • Hogan we're surrounded by many of the brightest minds in the legal profession and they all share a sense of compassion, dedication and desire to represent our clients to best of their ability. We feel a great responsibility to those who entrust their cases to us. Your case will have the full support of our professional staff. We have always been dedicated to seeing each and every case through to the end.
We Are Here For You
We remain committed to our tradition of aggressive, competent legal representation and view it as our on-going mission to persevere in representing the injured as they seek justice. We are always working for the kind of change that helps everyone live safer lives.