The Florida Justice Association (FJA) presented Wayne Hogan, president of Terrell • Hogan, with the S. Victor Tipton Award for excellence in legal writing during the Masters of Justice Conference in Orlando.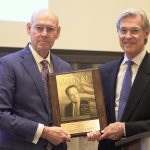 The award honors S. Victor Tipton, founder and editor of the Florida Justice Journal. Created 30 years ago, the award recognizes attorneys whose superior achievement in legal writing and commitment to the legal profession honor the role Tipton played within the FJA. "Based on his many years of superbly high-quality legal writing, Wayne Hogan's selection to receive the Florida Justice Association S. Victor Tipton Award is richly deserved and long overdue," said FJA's Executive Director Paul Jess.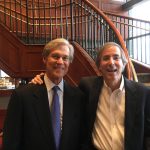 "While Wayne is recognized throughout Florida and nationally as an elite trial lawyer, his keen intellect and creativity have made him part of that select group of trial lawyers who are also accomplished in appellate and complex motion practice," said Evan Yegelwel, Hogan's law partner of 35 years. Evan nominated Wayne for the award.
Hogan is one of nine Florida trial attorneys who represented the State of Florida against Big Tobacco in the 1990's, resulting in a $17 billion settlement for Florida taxpayers and protections for Florida's children from addiction to cigarettes.
He won the first asbestos disease punitive damages verdict in Florida, and has served for two decades on The Florida Bar's Civil Procedures Rules and Codes & Rules of Evidence committees, which are most important to the work of trial lawyers.
Most recently, Hogan represented The Florida Bar's evidence committee before the Florida Supreme Court in an effort to protect against delay and needless litigation costs and to preserve access to justice in cases involving expert witness testimony.
Congratulations, Wayne!