At least one infant has bitten through a spoon, resulting in a piece separating in the child's mouth.
The Safety Recall Report 20-135 reports approximately 32,200 spoons are affected. Bonnsu has received one report of an infant who bit through the teething spoon, resulting in a piece separating inside the child's mouth.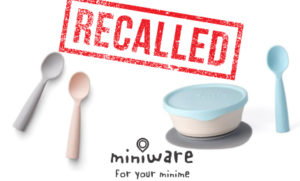 The Defect
The silicone teething spoon can break in a child's mouth when being used as a teether, presenting a choking risk to infants.
The Remedy
Consumers should stop using the teething spoons immediately and contact Bonnsu for a free replacement product.
Every day, we at Terrell • Hogan, represent victims of personal injury and wrongful death as they seek justice, and lawsuits we have pursued have prompted safety changes.  However, that came after the incidents, accidents and injuries happened. We believe it is important to try to help prevent injuries and wrongful deaths. One way is to publish information about recalls of defective and dangerous products.