Know your rights, understand your insurance policy.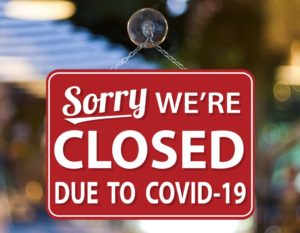 Many local businesses, from restaurants to retail stores and thousands more, have been paying insurance premiums to protect their business for years. Those premiums are paid towards their commercial insurance policies which commonly provides coverage for events like business interruptions or civil authority closures.
Then a rare disaster happens that causes one or more events to occur.  Jacksonville, just like the rest of world, has been hit hard by the pandemic. Our governor and mayor have both signed orders closing or severely limiting business operations. Through no fault of their own, many businesses have had their income dry up overnight, and some have been forced to close their doors.
Am I Covered?
The first step is to file a claim with your insurance company. Unfortunately, many insurance companies are saying that COVID-19 is not a covered loss. This is true locally as well. They are denying the claims because they say the virus did not cause any physical damage or loss to the business property. Most insurers use the term "direct physical loss" to determine whether this catastrophic loss is covered or not. 
What Is a Direct Physical Loss?
Many say COVID-19 does cause physical damage and loss. Doctors and scientists constantly tell us that the virus physically invades the cells in a person's body, physically multiplies, can physically shut down a person's lungs, and physically spreads from the body through the breath. That breath could then cause the same physical damage to the people in the surrounding area.
This is why we maintain six feet of social or physical distancing. This is also why the government has shut down, or partially shut down, millions of businesses. Because they were too physically contaminated, or would have been too contaminated, with this virus. 
New York City's mayor understands the physical threat COVID-19 poses. He recently issued an order closing certain businesses "because of the propensity of the virus to spread person to person and also because the virus physically is causing property loss and damage." Emergency Executive Order No. 100, issued March 16, 2020.
New Orleans' mayor issued a similar order stating that COVID-19 has the "propensity to attach to surfaces for prolonged periods of time, thereby spreading from surface to person and causing property loss and damage in certain circumstances." Order No. 2020-02602, issued March 16, 2020. 
Following that same rationale relied on by the American people and our government, COVID-19 should be recognized as a direct physical loss to business property.
Favorable Court Rulings
Judges around the country have issued opinions on what qualifies as a "direct physical loss" in similar circumstances. One court has found that "sources unnoticeable to the naked eye," can be a "direct physical loss" if it makes the building "uninhabitable and unusable."[1] Another court found that the emission of intolerable odors amounted to a "direct physical loss," as the property was altered to be temporarily or permanently uninhabitable.[2] Additionally, at least five other courts have found a "direct physical loss" when an event released fumes inside a building causing the air to be temporarily toxic to humans.[3] These cases will serve as a persuasive foundation for proving that COVID-19 should be a covered event as well. 
If I Qualify, What Is Covered?
Business interruption and/or civil authority closure insurance typically covers lost profits, operating costs, moving expenses, employee payroll, and other various costs.
Not All Policies Are the Same
Some commercial insurance policies have clear exclusions for damages caused by viruses, microorganisms, etc. Similarly, some policies will exclude damages caused by "pollutants" through various definitions. These clauses may or may not control the outcome when interpreted in the context of the entire policy. 
In rare cases, some policies clearly provide coverage for losses caused by viruses and microorganisms, but often limit the amount of recovery to a certain dollar amount, such as $50,000.
Some policies have language that covers only very specific types of loss, such as the cost of decontamination or spoiled goods.
Whether your business is covered for COVID-19 may mean the difference between surviving and furloughing employees, or even filing for bankruptcy.  That's why you should have your policy carefully reviewed. These policies are often more than 100 pages in length, and it's important to review each clause.
You Have Options
If you file a claim and your insurance company unfairly denies it, you have options. 
You may file a lawsuit to get your day in court. The most common form of lawsuit used is a declaratory judgment action, and it allows a judge – not the insurance company – to decide whether COVID-19 damages are covered by your insurance policy. You may also be able to file a breach of contract or bad faith claim against the insurance company, which would allow a jury – not the insurance company – to decide the disputed issues.
It's important to know that Florida law states that if an insurance policy is ambiguous, it will be interpreted in favor of the customer.
Many lawsuits have already been filed in Florida, and all over the county, by businesses trying to protect their rights.[4]
If your business has closed or suffered a loss due to the COVID-19 pandemic, consider contacting me to assist with filing a claim directly with your insurer or reviewing your case for a potential legal claim.
Our decades of experience have taught us that the insurance companies take claims filed by law firms more seriously. It's important to act quickly as you may have to meet certain deadlines to protect your rights. Our firm has adopted the necessary COVID-19 safety measures and we can meet you virtually by telephone, email, or video conference.
[1] Port Authority v. Affiliated FM Ins. Co., 311 F.3d 226 (3d Cir. 2002) (regarding asbestos).
[2] Mellin v. N. Sec. Ins. Co., 167 N.H. 544, 115 A.3d 799 (N.H. 2015) (regarding cat urine odor).
[3] Gregory Packaging, Inc. v. Travelers Prop. Cas. Co. of Am., No. 2:12-cv-04418, 2014 WL 6675934 (D.N.J. Nov. 25, 2014) (regarding release of ammonia); TRAVCO Ins. co. v. Ward, 715 F. Supp.2d 699, 709-10 (E.D. Va. 2010) (regarding toxic gases from drywall); Western Fire Ins. co. v. First Presbyterian Church, 165 Colo. 34, 437 P.2d 52 (Colo. 1968) (regarding gasoline fumes); Matzner v. Seaco Ins. Co., 1998 Mass. Super. LEXIS 407 (Mass. Super. 1998) (regarding carbon monoxide); Farmers Ins. Co. of Oregon v. Trutanich, 858 P.2d 1332 (Or. Ct. App. 1993) (regarding odor from methamphetamine lab).
[4] Allstate Ins. Co. v. Orthopedic Specialists, 212 So. 3d 973, 976 (Fla. 2017) ("[I]n order for an exclusion or limitation in a policy to be enforceable, the insurer must clearly and unambiguously draft a policy provision to achieve that result."); Wash. Nat'l Ins. Corp. v. Ruderman, 117 So. 3d 943, 950 (Fla. 2013) ("It has long been a tenet of Florida insurance law that an insurer, as the writer of an insurance policy, is bound by the language of the policy, which is to be construed liberally in favor of the insured and strictly against the insurer.").