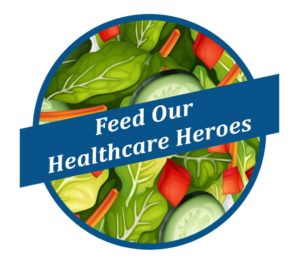 Attorney Fadi Chakour, M.D. appeared on First Coast Connect with Melissa Ross to bring attention to Feed our Healthcare Heroes. It's a community-wide program to provide meals to the healthcare workers serving on the frontlines of the COVID-19 pandemic.
Fadi told Melissa about his idea behind Feed our Healthcare Heroes: His wife, Rana, is a physician at UF Health Jacksonville, so he had insight into what can help those on the healthcare frontlines while supporting local restaurants that are struggling during the COVID-19 pandemic. When he approached his law partners about the idea, they enthusiastically told him to make it work. So, he quickly arranged to do a simple thing: Get with local restaurants to make meals for those on the frontlines.
We're sure this will need to be a continuing effort, and we'd like you to be a part of it. Please reply to Laura Hack, lhack@terrellhogan.com or 904-910-2401 and she will arrange the logistics for your participation.
To hear the full interview, click here.