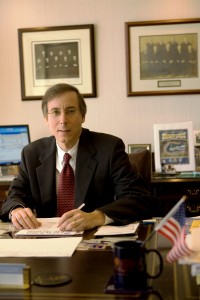 Jacksonville's old City Hall was imploded and came crashing down in a cloud of dust and several windows were broken on the south side of our office in the Blackstone Building.
The implosion caused me to reminisce about the old City Hall building and one memory stood out above all the others: Evan Yegelwel … back in the day, the First District Court of Appeal traveled to Jacksonville for oral arguments in several cases filed by Jacksonville attorneys. I had a case on their docket, as did other lawyers known to me. On this particular trip to Jacksonville, the court scheduled arguments in the auditorium of what was then our city hall.
I was in the court room early and a lawyer I had never seen before had the argument immediately prior to my case. I don't remember what his case was about, nor do I remember anything about my argument. What I do remember is that this young attorney nailed his argument…he responded strongly and appropriately to every question asked by the panel, and to every point made by his opponent.
I returned to our office and asked Tom Brown and WayneHogan  to meet me in the conference room. I told them I had just met a lawyer we should hire … and if we didn't have room, we needed to MAKE room for this guy. This guy was Evan Yegelwel. He was employed by the City of Jacksonville, General Counsel's office.
Now for the "Rest of the Story"(as Paul Harvey used to say … and for those too young to know who Paul Harvey was…google him) …
When we offered Evan a job, the General Counsel's office called me and said if we did in fact hire Evan away, the City would file motions to have our firm recused in all the files we had against the City, and all of its agencies and we always had several cases going against them.
We responded with assurances we would not have Evan work any open files, and would never seek inside information from him and added "if you carry out your plan, no lawyer worth his or her salt will go to work for the City, because they will be stuck for life as a Government employee."
Grady Martin, one of the City's top claims attorneys, persuaded the General Counsel's office to drop their threat and Evan came to work at the firm.
Evan has been with our firm for over 34 years and his success and a lawyer is well-known in the legal community. He is a Florida Board Certified Civil Trial Lawyer, has focused his personal practice in the field of personal injury, products liability and mass torts with particular emphasis on precedent setting cases for victims of asbestos diseases, those addicted to cigarettes, and victims of the 9/11 terrorist attacks. Evan has tried many asbestos cases to juries and has obtained some of the largest jury verdicts in Florida for compensation and for punitive damages for victims of asbestos diseases. He has chaired seminars and has lectured nationally and internationally on mass torts.
Seven years ago, Evan was diagnosed with ALS. It's been about 75 years since ALS was named Lou Gehrig's Disease, and there's still no prevention, no treatment and no cure.  The disease has eliminated his ability to speak, to eat without choking or to walk. To help raise awareness of ALS, Evan's Hope was created.
Even while living with ALS, Evan continues to be devoted to his profession and his community. He thinks. He works. He makes the right choices. No one could hope to have a better law partner. For over three decades, he has been dedicated to our law practice. He's a consummate trial lawyer and a great friend.
But in the end, Evan's greatest legacy is his family. Devoted to his family, as he is to justice, Evan has been married to his wife Arlene for 40 years this September. They are the proud parents of two daughters – Esther and Mike Raffol, Tania and Jordan Moser and grandparents of twins Jack and Eliana.
And now you know the "REST of the Story"…