With holiday gift shopping ramping up, more people are expected to buy toys early and online because of Covid.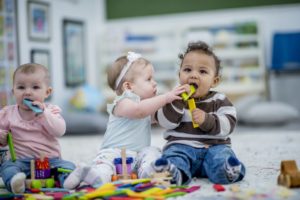 Now is a good time to remind consumers about toy safety. In 2018, 17 children died and more than 226,000 toy-related injuries were treated in emergency rooms, according to the Consumer Product Safety Commission (CPSC).
Toy Buying Tips
Being aware of common toy hazards before buying can help prevent injuries. Some top toy hazards are:
Toys with Small Parts. Avoid toys with small parts for children younger than three. They can cause choking. If a toy can fit through a toilet paper tube, it's too small.
Magnets. Children younger than six should avoid building or play sets containing magnets. When swallowed, they may cause serious injuries, even death.
Balloons. Kids younger than eight may choke or suffocate on uninflated or broken balloons.
Toys that shoot objects into the air. They may cause serious eye injuries or lead to choking.
Toys that are too loud. They could damage hearing.
Scooters & other Riding Toys. Riding toys and in-line skates go fast and falls can be deadly. Wear a helmet and safety gear at all times.
Toys with Toxic Materials. They may cause poisoning. Look for a label that says "non-toxic." Toys made in China and other parts of the world do not have the same safety standards as the U.S. and may contain lead, cadmium, or other heavy metals. Considering that 40 percent or more sellers on Amazon are based in China it is important to check the qualifications of the manufacturer.
Chargers & Adapters. They may pose a thermal burn hazard to kids. Make sure battery recharging is supervised by an adult.
Buying Used Toys
It's becoming more common to buy used toys from online vendors and secondhand stores. Gift givers should be vigilant to ensure they do not buy or sell hazardous products that have been banned, recalled or fail meet current safety standards. Check out the CPSC's website for recall information. Our goal in sharing this safety information is to help prevent injuries, but sometimes they do happen.
Defective Toys
Terrell • Hogan represents the injured as they seek justice. If your loved one was injured by a dangerous or defective toy, we can investigate what caused your child's injury and work with you to hold the responsible parties accountable. Though these types of cases can be complex, many of our lawsuits have resulted in manufacturers of defective products being held accountable for the injuries they caused. Some lawsuits have also led to product recalls and important safety changes. Consider contacting me at (904) 722-2228 for a complimentary consultation.