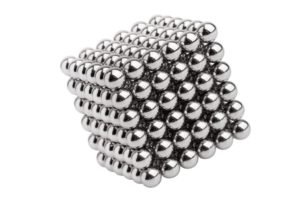 For many years, the Consumer Product Safety Commission (CPSC) has warned about the dangers of children swallowing high-powered magnets in toys for both adults and children. In 2006, a child died from swallowing magnets and many more have been injured.
Seek Immediate Medical Attention
If a child swallows high-powered magnets, the magnets will attach to each other and block or obstruct their intestines which can lead to serious injuries. If you think your child has ingested one or more magnets, don't wait. Get your child to your local hospital so they can be x-rayed as soon as possible. Make sure your child does not have anything to eat or drink until the x-ray has been completed.
In a recent article in USA Today, Dr. Bryan Rudolph, a pediatric gastroenterologist, discusses the dangers and injuries he's seen when children ingest magnets. He is a strong advocate to ban high-powered magnets due to the serious danger they cause. He states "The decision to ban any consumer product should carefully consider the risks, benefits and alternatives. But data regarding high-powered magnet sets is clear: the utility gained by society is outweighed by the harm to children."
Worth Repeating
At Terrell • Hogan, we think recall and safety information is worth repeating. The dangerous magnets have caused and continue to personal injuries to children and need to be taken out of use. So, until there's a solution to this worrisome problem, we will continue to repeat important safety information to help keep you informed and safe. At Terrell • Hogan, protecting families from unforeseen accidents and personal injury is what we do every day. We represent the injured as they seek justice, but we also know that it's best to try to find ways to prevent injury and loss before they happen.
Number of children swallowing dangerous magnets surges as industry largely polices itself
Physicians and Consumer Advocates Warn Consumers against High-Powered Magnet Sets; Ask For Congressional Intervention