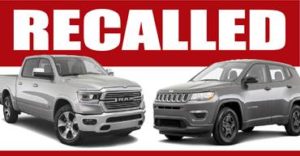 Reduced Visibility Increases Risk of Crash and Injury
The National Highway Traffic Safety Administration (NHTSA) documents Safety Recall Report 20V-208, reporting recalls on 2019-2020 Ram 1500 /1500 Classic trucks and 2019-2020 Jeep Compass SUV. 425,588 vehicles are affected. All are estimated to have the defect.
The Defect
The windshield wiper arms may loosen and then fail to clear the windshield properly during rain, etc. This impaired visibility increases risk of crash and injury.
The Remedy
Owners will be notified by mail beginning late May to bring in their faulty vehicles. Dealers will tighten the wiper nuts, free of charge.
Enter your 17-digit VIN on the NHTSA's website to determine whether your vehicle has any open recalls that need to be addressed.
Here at Terrell • Hogan, we prioritize preventing injuries and wrongful deaths by spreading information about vehicle recalls. Automobile recalls are issues frequently so please check the status of your vehicle often.