Daimler has recalled over 4,000 2020 through 2022 Freightliner Cascadia sleepers that have specific Bridgestone tires on the steer axle. These tires could experience tread separation or blowouts.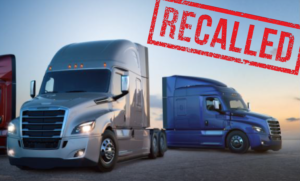 Safety Recall Report Report 21V-007 reports recall on 2020-2022 Freightliner Cascadia sleeper trucks with Bridgestone R284, R268, or R283S ECOPIA steer axle tires and in conjunction with a specific air dam.
The Defect
The steer tires may experience tread separation or blow-outs while driving.
The Remedy
Affected steer tires will be replaced. The repairs will be performed through Daimler Trucks North America authorized service facilities by authorized tire mounting and balancing contractors. Customer notification is planned to begin in March.
At Terrell • Hogan, helping families recover from accidents and personal injury is what we do every day, but we know that it's best to try to find ways to prevent injury and loss before they happen. So, Terrell • Hogan will continue to repeat information about recalls of defective and dangerous products to help keep you informed and safe.