With online shopping continuing to thrive this holiday season, shipping companies are offering alternate delivery options to keep your packages safe from porch pirates this holiday season.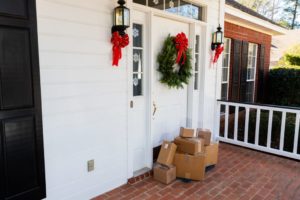 Theft Protection
11 million people had packages stolen from outside their homes in 2017.
According to Clark.com, the major package shipping companies have options to ensure your packages don't get snatched.
Some options include: delivering packages to lockboxes in stores, in-home delivery, in-car delivery, signature required deliveries, customized deliveries to fit your schedule, and for a fee, instructing drivers where to leave your package, such as the back door.
Options
Here are some options to help keep your packages safe:
United Parcel Service (UPS)
UPS My Choice allows you to leave the driver instructions on where to leave the package and receive delivery alerts. It's a free service that comes with a $40 year premium option.
UPS Delivery Intercept allows you to hold packages at a UPS facility or reschedule delivery. A fee may apply.
FedEx
Send your package to a local FedEx store. The store can hold it for you for up to five business days at no additional charge.
Request a signature before the package is released.
Customize your home delivery with FedEx Delivery Manager. It's a free service.
U.S. Postal Service
Require a Signature on a host of delivery services including certified mail, insured mail (more than $500), registered mail, return receipt requested, Priority Mail Express (if requested), collect on delivery, and signature confirmation.
Informed Delivery is an email notification service that lets you know what's being delivered to your mailbox while you are away.
Amazon. Com
Amazon Key Smart Lock Kit for in-home delivery. Available to Prime Members in select cities. Couriers drop packages off inside homes. The system works in concert with a door lock and camera that are connected to the internet.
In-car delivery allows couriers to put packages inside vehicles with Amazon Key In-Car Delivery. Available to Prime members in select cities.
By taking advantage of these delivery options, you can help ensure you don't become a victim of package theft.
Don't Forget Toy Safety When Buying Online