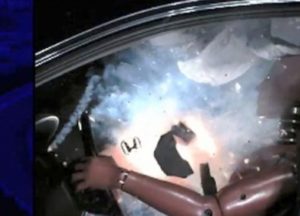 Defective airbag inflators can explode causing injury or death.
The National Highway Traffic Safety Administration (NHTSA) declared GM front passenger Takata inflators defective.  Chevy Avalanche, Silverado, Tahoe, Suburban and, GMC Sierra and Yukon, and Cadillac Escalade are among the models covered in this global GM Takata recall.
The Defect
Takata airbag inflators used ammonium nitrate, which can be unstable when exposed to moisture or humidity, causing the airbags to explode during a crash. The Takata inflators involved in this latest recall had a moisture-absorbing chemical in them called desiccant to prevent explosions, but the later style of inflators will now also have to be repaired.
27 people have been killed by defective Takata airbag inflators globally, 18 of which were in the U.S.
The Remedy
General Motors said the recalls will be phased in based on replacement inflator availability.

To check your vehicle for recalls, enter your 17-digit VIN on the NHTSA website to determine whether your vehicle has any open recalls that need to be addressed.
Every day, we at Terrell • Hogan, represent victims of personal injury and wrongful death as they seek justice, and lawsuits we have pursued have prompted safety changes.  However, that came after the incidents, accidents, and injuries happened. We believe it is important to try to help prevent injuries and wrongful deaths. One way is to repeat information about recalls of defective and dangerous automobile recalls.