Older vehicles with defective Takata Airbags from Acura, Audi, BMW, Honda, Mitsubishi and Toyota are included in the recall.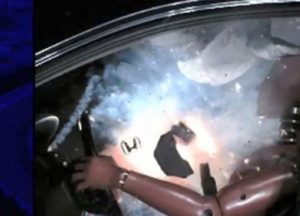 The latest recall includes the following vehicles:

BMW said that it is recalling over 116,000 vehicles from the 1999 through 2001 model years, including certain 1999-2001 323i, 325i, 328i, and 330i and 2000-2001 323Ci, 325Ci, 328Ci, 330Ci, 323iT, and 325iT sedans, coupes, and wagons.
Audi, Acura, Honda, Toyota and Mitsubishi are also currently identifying which models are involves with this current recall.
As with the ongoing recall, the defective inflators can explode, under-inflate or eject shrapnel at passengers which can serious injury or death.
NHTSA's Recall Notice
Safety Issue Type: Recalls
November 26 2019 NHTSA Campaign Number: 19E080000
Air Bag Inflators May Rupture or Underinflate Bag
In the event of a crash necessitating air bag deployment, an inflator
rupture may result in metal fragments striking the driver or other occupants. An underinflated air bag may not properly protect the occupant. These scenarios increase the risk of serious injury or death.
NHTSA Campaign Number 19E080000
Manufacturer Takata (TK Global LLC)
Components AIR BAGS
Potential Number of Units Affected 1400000
Summary
Takata (TK Global LLC) is recalling certain Non-Azide Driver air bag Inflators (NADI). These inflators were used in some brands of 1995-2000 vehicles and do not contain phase stabilized ammonium nitrate (PSAN) propellant. Due to a manufacturing issue, the NADI inflators may absorb moisture, causing the inflators to rupture or the air bag cushion to underinflate.
Remedy
Takata will be working with vehicle manufacturers to determine into which vehicles the affected inflators were installed either as original or replacement equipment during service. As this work progresses, numerous vehicle recalls will likely be announced by the impacted vehicle manufacturers. The recall is expected to begin on January 24, 2020.
To see if your car is included, click here and input your vehicle's VIN number.
We Want To Help
At Terrell • Hogan, we believe it is important to try to help prevent injuries and wrongful deaths. One way is to publish information about recalls of defective and dangerous products.  Until all the vehicles with Takata air bags have been repaired, we will continue to share this important recall information.