November is the time when many people begin their holiday shopping. For the last decade our firm has repeated recalls of dangerous toys and done our best to help consumers make sure their holiday shopping contributes to sharing the joy of the season with family and friends.
Checking the New and the Old
Before you head out or get on line to buy that favorite toy, there are a few things to keep in mind to avoid buying defective or dangerous toys. The U.S. Consumer Product (CPSC) reported more than 256,000 toy-related injuries treated in emergency rooms in 2013. The CPSC strongly recommends gift buyers check for recalls before buying any toy.
The CPSC also recommends checking on previously purchased items that may be brought out of storage or bought at a thrift store or yard sale to see if they were recalled.  Not only should you check on toys, but furniture, especially older baby cribs, walkers, strollers and high chairs. Click here for Thrift Store Safety Information
Another excellent resource is the Safe Kids' website.  It recommends age appropriate toys and keeps up-to-date on the latest recalls.
 2016 Worst Toys List
Every year, World Against Toys Causing Harm (W.A.T.C.H.)  publishes its list of the most dangerous toys. This year's report notes that since January 2015 there have been more than 800,000 recalled defective products, including 500,000 in 2016.
Here is its list of the 10 most dangerous toys of 2016, the risks of each and where they are sold:
Peppa Pig's Muddy Puddles Family. Target, Amazon. Choking hazard from small parts.
Kids Time Baby Children's Elephant Pillow. Amazon. Suffocation hazard, but no warning.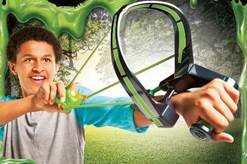 Slimeball Slinger. Toys 'R' Us, Amazon.com. Slimeball ammunition can be fired with enough force to cause eye injuries.
Banzai Bump N' Bounce Body Bumpers. Walmart, Amazon, Ebay, Sears. Potential for impact injuries.
Nerf Rival Apollo XV-700 Blaster. Walmart, Target, Amazon, Kmart, Potential for eye injuries but carries no warning.
The Good Dinosaur Galloping Butch. Amazon.com, Walmart.com, Toys 'R' Us.com. Potential for puncture wounds due to pointed tail. Warns about small parts but not about puncture wound threat.
Peppy Pups. Toys 'R' Us. Risk of strangulation due to long cord. Carries no warning.


Flying Heroes Superman Launcher. Toys'R'Us, Amazon, Walmart, Sears, Ebay, BigW. Risk of eye and facial injuries. There are Batman, Spider Man and Iron Man versions.
Baby Magic Feed and Play Baby. Toys 'R' Us, Amazon.com, Sears.com. Spoon that comes with doll has the potential to be mouthed and block a child's airway. Has no warning.
Warcraft Doomhammer. Toys 'R' Us, Amazon.com. Risk of blunt impact injuries.
W.A.T.C.H. says that its list highlights
the worst toys, but consumers should be aware that these are not the only dangerous toys on the market.
Choose Carefully
While no one chooses gifts with the intent to harm a child, it is well-known that toys may cause serious injuries. Sometimes safety considerations are lost by attempts to make the holidays special for children. Be sure to follow age-appropriate guidelines. Age labels are checked closely and should not be taken lightly. Choking and strangulation hazards can mean life or death to a child. Also, many toys made in made in China and other parts of the world that do not have the safety standards we have here.

Every day we represent victims who were injured by defective and dangerous products. Many of those lawsuits have led to safety changes in products.  Sadly, the changes only came after the incidents, injuries or deaths. Because we strongly believe it is important to try to help prevent injuries and wrongful deaths, we will continue to publish information about recalls of defective and dangerous toys and children's products.
Hopefully, helping consumers make sure they're shopping for safe toys will contribute the joy of the season with family and friends. Let's make it smart and safe. Happy holidays!
Toy safety during the holidays
Watch Out for Counterfeit Toys

First Coast Connect with Melissa Ross 12/5/16 Wayne Hogan spoke about what toys should be avoided his holiday season