To our colleagues, employees, and clients,
As you know, documented cases of COVID-19 are now in our area. Fortunately, local, state, and national responses aimed at mitigation and containment are accelerating and private industry has taken a lead without governmental prompting.  These are encouraging events.
The focus in this communication is to emphasize how you can best protect yourself, your loved ones, your colleagues, your staff and co-workers, your clients and the greater community. 
 Your safety and continued well-being is of paramount importance to the Terrell • Hogan law firm.   And of course the community needs everyone to remain healthy as well. So, I would encourage each of you to think how best to keep yourself and everyone around you as safe as possible with respect to COVID-19.
 Here are some guidelines that are very important and worth emphasizing: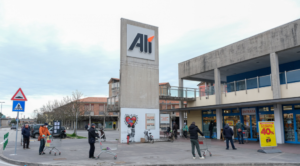 1.  Maintain interpersonal distances of 6 feet whenever possible.  The primary mode of transmission is by respiratory droplet.  Keeping 6 feet of distance ensures that the droplets fall to the ground before entering your breathing space.  Try to do this generally.  Here is an image from Italy of the new protocol for supermarket shopping:
 2.  NO HAND SHAKING or TOUCHING of other people!  Elbow bumping is an ok alternative.
3.  Keep in mind that it is still uncertain to what extent "asymptomatic" people with early COVID-19 infections contribute to disease spread.  The presumption right now should be that this is significant until proven otherwise!
4.  COVID-19 can live on surfaces for hours, depending on the surface and the environmental condition.  Consider all public surfaces as contaminated.  It is impossible to keep these surfaces disinfected at all times.  I am referring to doorknobs, water faucets, countertops, phones, toilets, keyboards, etc.  To the extent that you can, use a disposable paper towel after you wash your hands to turn off a water faucet or to open a door.  If you are using phones avoid direct contact of the phone with your face.  After touching anything in public do not touch your mouth, eyes, or face until after you have thoroughly washed your hands.  Remember that phones and keyboards have a higher density of potentially pathogenic microorganisms than does a toilet seat.
5.  HANDWASHING IS KEY and the SINGLE MOST IMPORTANT PROTECTIVE INTERVENTION.  20 seconds for a thorough geographic scrub!  See below: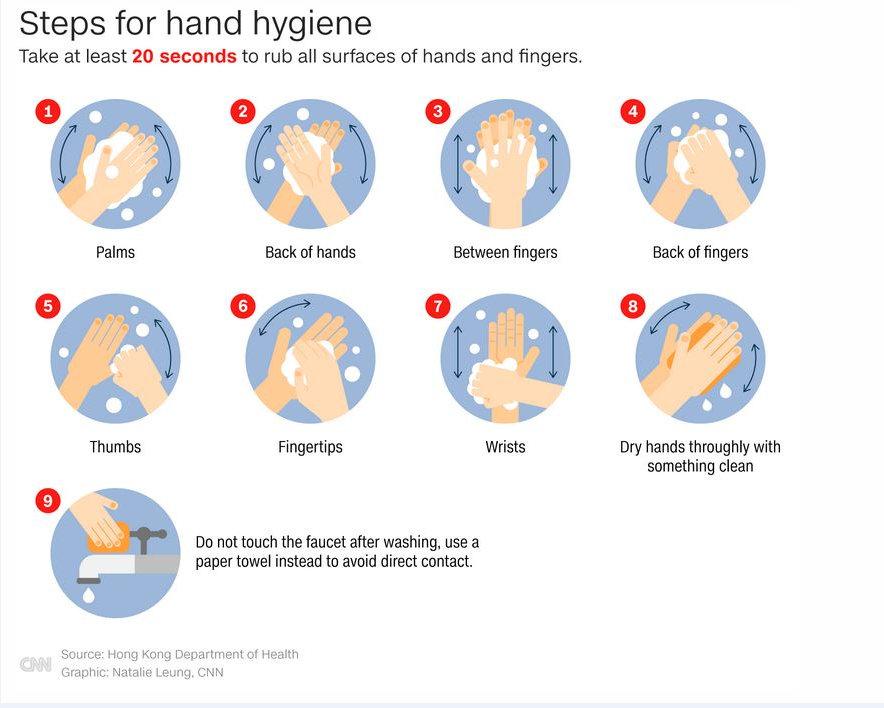 6.  If you acquire a febrile illness you must self-isolate and take measures to protect your family.  Wash your hands, do not contaminate common spaces, use an isolated bathroom if possible, wear a mask to protect others.  If you are completely better within 3 days it is unlikely that you had COVID-19, so you may return to work after discussing with you doctor and employer. If you are ill for more than 3 days you will need to obtain medical advice and be tested for COVID-19.  If you are positive for COVID-19 you cannot return to work immediately when you have clinically recovered because you will likely still be shedding virus for some time.  Right now the guidance is for two negative oral/nasal swabbings at an interval, but that guidance may change.  Live virus may persist in the feces for days after oral/nasal samples become negative.
7.  Large group meetings and smaller meetings that cannot guarantee at least 6 feet of interpersonal space for everyone should be transitioned to Zoom phone conferences or online webinars. This is not only for your protection, but to also minimize potential wider internal vectoring of diseases by asymptomatic individuals.
8.  As an employer, you should be working to enable as many of your employees as practically possible to work from home.  If schools are shut for a prolonged period, this will serve two purposes for your staff who might not be able or afford to scramble to make other child care arrangements.
9.  Keep being informed with the updates and guidance from the CDC and other Federal and local health agencies and follow their recommendations.
We will as a country get through this.  It is important that all of us remain united, thoughtful,  prepared, and calm.  We will send out more information and guidance as needed. 
Be safe everyone.