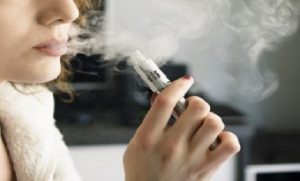 The recent announcement by the FDA that it is cracking down on e-cigarettes and the popular Juul vaping devices is good news. E-cigarette use poses a serious health risk to young people. Use of these devices increases the likelihood of addiction and harm to brain development and respiratory health. Second-hand exposure to e-cigarette vapor that someone else has exhaled poses potential health risks.
The Dangers of E-cigarettes
E-cigarettes are devices that heat a liquid into an aerosol that the user inhales. The liquid usually has nicotine and flavoring in it, and other additives. The nicotine in e-cigarettes and regular cigarettes is addictive. E-cigarettes are considered tobacco products because most of them contain nicotine, which comes from tobacco. Besides nicotine, e-cigarettes may contain harmful and potentially harmful ingredients, including: ultrafine particles that can be inhaled deep into the lungs, flavorants such as diacetyl, a chemical linked to serious lung disease, volatile organic compounds and heavy metals, such as nickel, tin and lead.
It Kills
Tobacco use is the leading cause of preventable disease, disability, and death in the United States. According to the Centers for Disease Control and prevention, nearly 40 million US adults still smoke cigarettes, and about 4.7 million middle and high school students use at least one tobacco product, including e-cigarettes. Every day, more than 3,800 youth younger than 18 years smoke their first cigarette. Each year, nearly half a million Americans die prematurely of smoking or exposure to secondhand smoke. Another 16 million live with a serious illness caused by smoking. The United States spends nearly $170 billion on medical care each year to treat smoking-related disease in adults.
No matter how it's delivered, nicotine is harmful for youth and adults. No cigarette is safe and hopefully the new FDA regulation of all tobacco products will help reduce the dangers and cut down on the use.
Every day, we at Terrell • Hogan, represent victims of personal injury and wrongful death as they seek justice, and lawsuits we have pursued have prompted safety changes. Sometimes the changes only occurred after the incidents, accidents and injuries happened. We believe it is important to try to help prevent injuries and wrongful deaths. One way is to get the word out about the dangers of E-cigarettes.
F.D.A. Cracks Down on Juul and E-Cigarette Retailers
E-cigarette use is an 'epidemic,' FDA chief says – The FDA is considering a ban on all flavored e-cigarettes