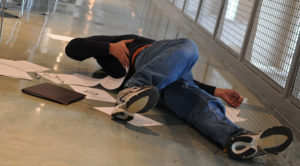 Wet and uneven surfaces, loose floorboards, torn carpeting, potholes and poorly constructed staircases are some of the common causes of slip and falls accidents.
If you were injured after a slip and fall, you may have a premises liability claim if it can be proven the accident was caused by a dangerous condition the property owner knew about and failed to correct.
Here are some tips on what to do after a slip and fall injury:
Try to determine the nature of the substance on which you slipped such as water, oil, grease, marbles, sand, sugar, honey, etc. by examining the area where the accident happened.
Examine the area around the fall for evidence that pedestrians walked through the substance or if there are shopping cart wheel tracks on the floor near the fall. This is evidence the substance has been on the floor for a sufficient time for the premises owner to be on notice of the condition.
Foreign Objects. If there is no slippery liquid substance on the floor, examine the area of the fall and see if there are any foreign objects on the floor such as a piece of cardboard or paper, or something else which could have caused your fall.
Preserve evidence if you were seriously injured. Do not wash the clothes you were wearing at the time of the fall and put them in a plastic bag for safekeeping. Do not clean the substance from the shoes or wear them. Preserve them as evidence.
Take photos of the area with your phone if possible.
Report the incident. Although a fall can be embarrassing, it's important to report you have fallen. Even if there are witnesses to the fall, the tendency is to say 'I'm okay' and quickly depart the area. Sometimes in slip-and-fall accidents, you may not experience pain until the next day. 
Get the names, addresses and telephone numbers of witnesses because the premises owner will not generally release its incident report.
Request any surveillance recordings be preserved. If the premises owner fails to preserve such evidence, it can be used as evidence of liability.
Seek medical attention for your injuries and document them.
If you or a loved one has become injured by a slip and fall accident, it is important to consult with a Jacksonville personal injury attorney who has the experience and resources to vigorously pursue your premises liability claim. You may contact me at 904-722-2228 for a complimentary evaluation.