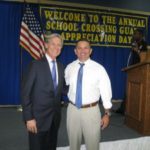 The 300 crossing guards who keep our kids safe as they attend Duval County schools were honored for their service at the JSO's 23rd Annual School Crossing Guard and Volunteer Appreciation Luncheon that took place at the Fraternal Order of Police Lodge on Beach Boulevard Wednesday afternoon.
Several hundred people attended the luncheon. Sheriff Mike Williams was keynote speaker and gave awards for 5, 10, 15, 20, 25 years of service. Terrell • Hogan attorney Bruce Anderson, candidate for Circuit Court Judge, Florida Senator Audrey Gibson and attorney Leslie Jean-Bart, candidate for Florida House District 14, also attended the luncheon on behalf of the firm.

During the event, Terrell • Hogan President, Wayne Hogan, who sponsored the luncheon, thanked the crossing guards for the vital role they serve in keeping our kids safe and for being positive role models. He told the audience they have one of the most important and dangerous jobs in public service and gave them each a clear poncho to wear over their uniforms to protect them when it rains. School starts on August 15th.
At Terrell • Hogan, we represent the injured as they seek justice, but helping prevent accidents and injuries is also a constant focus. We think it's important to try to find ways to prevent injuries and wrongful deaths before they happen. Crossing guards protect the lives of children who walk or bicycle to school by helping them safely cross the street on their way to school and home. They are also are there as teachers to help kids acquire the skills to cross streets safely at all times. That's why we feel it's important to help recognize the good work of Jacksonville's crossing guards.