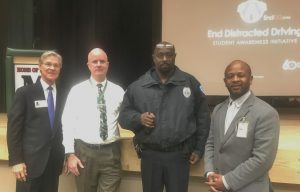 We were honored to be asked to speak to over 300 students at Mandarin High School about the serious dangers of distracted driving. It was part of the firm's End Distracted Driving Student Awareness Initiative that's trying to end dangerous behavior that puts drivers – and others sharing the road with them – at risk.
With Mandarin High Mustangs having just completed a great turnaround season, we made the point that it wasn't by luck, but by focusing on the task at hand, that the Mustangs won the 2018 the state 8A football championship, and that the same kind of focus, avoiding distractions, is required to drive safely on today's highways.
Know the Facts
Our goal isn't to tell kids what to do, but to give them the facts, to show them the faces of distracted driving and its tragic consequences, so that it sinks in and they can make smarter choices to be safer on the road.
They also delved into how distracted driving is more than just texting. It includes changing music, using GPS, eating, applying make-up, talking on the phone and social media. Distracted driving is as dangerous as drunk driving – both increase your crash risk 4x and texting increases it 23x. The students who drive were encouraged to change their driving behavior and also to speak up if they're in a car with a distracted driver, such as by offering to make the call or text for the driver.
While Florida is one of a handful of states that does not ban handheld cell phone usage or texting while driving, safety advocates recommend drivers not wait on legislation to make good decisions. Until the laws change, our is to encourage kids to look out for themselves and others, making the roads safer for everyone.
Why We Think It's Important
The End Distracted Driving Student Awareness Initiative is an educational program created by the Casey Feldman Foundation to honor her legacy after she was killed by a distracted driver. The program has reached more than 400,000 students nationwide to date.
Remember, one text or call can wreck it all. If you would like to request a complimentary End Distracted Driving presentation or a For the Workforce presentation, for employers and civic groups, call (904) 722-2228. We've reached 9,600 teens and adult drivers since offering our Distracted Driving Awareness presentations.