The Terrell ⦁ Hogan personal injury and wrongful death law firm has been successfully representing veterans for over 40 years including in numerous cases of mesothelioma and asbestos lung cancer caused by exposure in serving our country between the years of 1940-1980.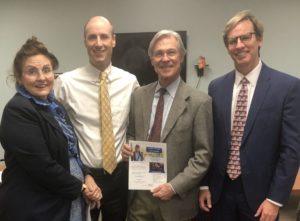 For the 6th year, the lawyers of Terrell ⦁ Hogan have volunteered their time and legal expertise in conjunction with Jacksonville Area Legal Aid (JALA) to help those who have served and are now in need of legal assistance. The Veterans Legal Collaborative is held every month at the Jacksonville Outpatient Clinic on Jefferson Street. Terrell ⦁ Hogan attorneys Wayne Hogan, Alan Pickert, Leslie Goller and Bradley Bodiford once again volunteered to participate in the event which invites all veterans who sign up in advance to speak one-to-one with them regarding their legal issues.
Veterans Legal Collaborative
The Veterans are encouraged to bring any relevant documents pertaining to their various legal issues and discuss them for free. For over thirty years, our firm has been devoted to representing veterans who have developed asbestos lung cancer and mesothelioma from serving in the armed forces aboard ships, working with machinery and airplanes, and bunking in barracks.
As of 2019, Florida ranks third in the nation with a very high veteran population (1.44 million). There are 11.7 million veterans over the age of 65, which is about 61% of all veterans. Veterans make up approximately 11% of adults experiencing homelessness and 70% of the veterans who are homeless also suffer from substance abuse and 50% live with PTSD and other mental illnesses. Getting access to legal help is crucial for great numbers of veterans.
Giving Back
We participate in JALA's legal clinics for veterans to help encourage self-sufficiency, stability, and financial security through comprehensive and accessible legal services. If you are a veteran (or active military) in need of legal help, we are ready to take your call. We understand the sacrifices our veterans have made for us and we at Terrell ⦁ Hogan want to help our veterans in any way possible. Also, if you or a loved one has developed mesothelioma or another asbestos cancer of any kind from serving in America's armed services, please contact us.