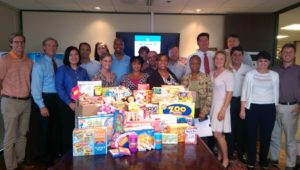 Recently, Terrell • Hogan staff and attorneys donated much needed supplies and goodies for sick children and their families staying at Ronald McDonald House Charities Jacksonville. "These generous donations are a reflection of the people at our law firm. "I am so proud to help make this "home away from home" a little nicer for families with sick children" said Michele DiJanni, a Terrell • Hogan paralegal who helped coordinate the giving.
The supply drive was part of the annual Injury Board Day of Action,  a collaborative effort between Injury Board members, Ronald McDonald House Charities Network of Local Chapters and Children's Hospitals from across the U.S. The national community outreach effort brings together law firms for the injured from across the country in a common cause on the same day, September 17th. Approximately 50 firms across the country participated in the effort, including the Terrell • Hogan personal injury and wrongful death law firm in Jacksonville
Terrell • Hogan team members delivered several car loads full of items including toiletries, snacks, breakfast foods, toys, board games and gift cards for kids and their families staying at the Ronald McDonald House. "I loved seeing all the smiling faces when we show up with all the goodies," said Cynthia Ali, a Terrell • Hogan paralegal who helped organize this year's supply drive.
The Ronald McDonald House Charities Jacksonville provides lodging and other services for critically ill, chronically ill and seriously injured children and their families who live out of town and are getting medical treatment in Jacksonville. When the firm staff and attorneys delivered the donations, they found that the Ronald McDonald House in San Marco is in the midst of a doubling expansion to meet the needs of the many families of children receiving care in local treatment facilities.
Terrell • Hogan is strongly committed to public service, and believe giving back to the community is an important part of our professional responsibility to help make Northeast Florida a better place to live.