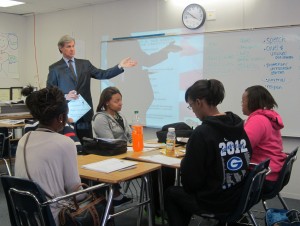 Students from Robert E. Lee High School received a real-world application of the Bill of Rights as part of Justice Teaching, a statewide program that teams local attorneys and judges with schools to teach students about their constitutional rights and responsibilities.
Attorney Wayne Hogan, president of the Terrell • Hogan law firm, visited students from Mary Chowenhill's American Government class to lead an interactive discussion and role playing exercise about the Bills of Rights.
A statewide initiative created by then Florida Supreme Court Chief Justice R. Fred Lewis in 2006, Justice Teaching matches local attorneys and judges with area elementary, middle and high school kids to teach them about the American justice system.  So far, 125 local legal professionals have volunteered to teach at 179 public and private schools. For more information, see The Jacksonville Daily Record article.