At Terrell • Hogan we fight for justice just as hard whether the case is big or small in the eyes of the insurance company on the other side. While we represent many clients, for each individual client their case is their only case. Since it's important to them, it's important to us.
Take the case of our client Willie Murray. A Duval County jury recently awarded the father of five $177,000 in damages stemming from a car accident in which he suffered lower back injuries, rendering him unable to work. With no damage to either vehicle, and permanent pre-existing back injuries, this made for a challenging case.
Low-impact crash
In April 2012, Mr. Murray was stopped at the corner of Lane and Commonwealth Avenues when a flatbed truck, owned by Canam Steel Corporation, backed up and hit our client's car.
Mr. Murray, who had chronic lower back pain for more than 30 years, was reinjured by the accident and needed surgery to treat his back pain. On disability for a knee injury, he was on his way to take a written exam for a new job as a truck driver when he was hit. Now, he could not work. Canam's insurance company, Liberty Mutual, offered a settlement that was less than the amount of Mr. Murrays' medical expenses, so we took Mr. Murray's case to trial.
Challenging case
Soft tissue cases like this one are some of the toughest to prove because there was no damage to Mr. Murray's front bumper and no visible injury to our client. In most people's life experience, they would not be injured at a low-speed back up like this. However, for someone like Mr. Murray, with a pre-existing injury, the threshold for re-injury is low and happened with this low-speed crash.
Expert witness
Our expert showed how body position and movement during impact can cause injury. Since our client was twisted and turned during the impact, the likelihood of re-injury was significant. In addition, due to the elasticity of modern bumpers, they bounce back after impact and frequently show no damage from that impact. Our expert proved the impact – despite its low speed – re-aggravated Mr. Murray's lower back pain.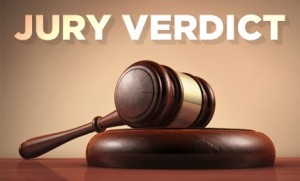 The jury agreed and decided Mr. Murray should receive $177,000 in compensation for his damages that included past and future medical bills, and some past and future lost earnings. Thorough trial preparation, a belief in our client, and the science combined for a successful outcome for our client.
Our approach
For more than 40 years, Terrell • Hogan has completed thousands of cases, many large, but also those small in the eyes of others. When we take on a case, we are determined to win it. Our experience teaches that we must start preparing for a trial as soon as the client asks us to represent them. That prepa­ration for trial is the key to producing deserved settlements for our clients. Our "leave no stone unturned" philosophy has always been the key to success for our clients.