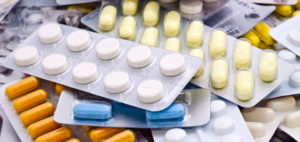 The Opioid epidemic is upon us and Terrell • Hogan is helping find solutions. Nearly 48,000 Americans died of opioid overdoses in 2017 alone, roughly the number of Americans who died in Vietnam, Iraq, and Afghanistan combined. Drug overdoses are now the leading cause of death for Americans under the age of 50, and 134 Americans are dying on a daily basis because of the opioid epidemic.
As a part of a team of attorneys, Terrell • Hogan represents West Virginia-based Teamsters Locals 175 & 505 Health & Welfare Fund in the multi-district litigation ("MDL") before U.S. District Court Judge Dan Polster.
Teamsters Actions Benefit Consumers
In a positive development for consumers in this national opioid litigation, Judge Polster issued an order in response to a September 2018 motion filed by Webb County, Texas and West Virginia-based Teamsters Locals 175 & 505 Health & Welfare Fund, which sought leave of court to file an injunction against the nation's three largest pharmacy benefit plan managers ("PBM"s): Optum, CVS Caremark and Express Scripts.
The proposed injunction sought to require the PBMs to take immediate steps to change their behavior and align their standard national formularies to the 2016 Centers for Disease Control and Prevention (CDC) guideline to dramatically reduce the escalating distribution and abuse of prescription opioids. This action caused the PBMs to enter into an agreement to do so and Judge Polster's Order reflects this.
Other Opioid Litigation
The first opioid trial, Oklahoma ex rel. Hunter v. Purdue Pharma LP et al., case number CJ-2017-816, in the District Court of Cleveland County of the State of Oklahoma brought by the Oklahoma Attorney General being tried against pharma giant Johnson &  Johnson and its Janssen Pharmaceuticals unit is in closing arguments.  Oklahoma is asking for a minimum of $13 billion to fund an abatement plan under a "public nuisance" theory of liability in this bench trial. Purdue Pharma already settled with the state of Oklahoma in March 2019 for $270 million.
Terrell • Hogan is proud to be making a difference, as it did with cigarettes and asbestos.