Local businesses, professionals and community members are teaming up to help prevent accidental drownings by funding lessons to teach kids at the Guardian Catholic Schools how to swim.
Between now and May, 100 K-8 students from the Guardian Catholic Schools with little or no swimming ability will receive eight 30-minute water safety and swim lessons in an after school pilot program at the Yates Family YMCA. Last fall, 50 kids received the first lessons in the program.
"One drowning is too many. Each one is tragic and preventable. I'm pleased to support this program that will teach children how to swim so they they can enjoy the water and stay safe around it. It could save their own lives – or perhaps another's," said Wayne Hogan, president of the Terrell • Hogan Law Firm, one of the program's key sponsors.
The pilot program was created by Mary Pat Wallmeyer who teaches some of the swim lessons and obtained grassroots support from the community to pay for them. Financial support also came from the Lou and Jan Walsh Foundation, Friends of Bolles Swimming, as well as donations from individuals, including a retired priest.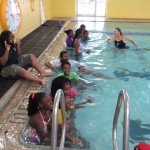 "We are thankful for each individual and organization who donated to our program and believe that every school-age child should receive life-saving water safety training," Wallmeyer said. "Florida is a leader in the nation for accidental drownings of kids 14 years and younger. It is our dream to build partnerships with local business leaders and service providers like the YMCA is to grow this after-school swim program aimed at drowning prevention."
Organizers are seeking financial support from the community so they can continue the pilot program each fall and spring. If you would like to sponsor a child to learn how to swim, contact Mary Pat Wallmeyer at (904) 237-8755 or mpjax@att.net  It costs $75 per child for eight lessons.