According to Distraction.gov, 3,179 people were killed, and 431,000 were injured, in vehicle crashes involving distracted drivers in 2014. Distraction.gov is the official website for efforts by the U.S. Department of Transportation and the National Highway Traffic Safety Administration addressing the dangers of this all-to-common hazard.
In what has become a national and international epidemic, The Centers for Disease Control reports that seven studied European countries, including Belgium, France, Germany, the Netherlands, Portugal, Spain, and the United Kingdom, face rising distracted driving incidents. However, the risky behavior of phoning, texting and emailing while driving is most prevalent in the United States. So what is being done to stem the tide? Currently, 46 states, the District of Columbia, Puerto Rico, Guam and the U.S. Virgin Islands ban text messaging for all drivers.
41 of the 46 states have primary stop enforcement for texting. 14 states, D.C., Puerto Rico, Guam and the U.S. Virgin Islands prohibit drivers of all ages from using handheld cell phones while driving.
38 states and D.C. ban all cell phone use by novice drivers, and 20 states and the District prohibit cell phone use by school bus drivers. Several years ago, the President issued an executive order prohibiting federal employees from texting while on government business or using government equipment. The Federal Motor Carrier Administration, responsible for federal regulations regarding the trucking industry, announced a ban on commercial drivers texting while driving and a ban against those transporting hazardous materials from all handheld cell phone.
Florida
In Florida, texting while driving is a secondary-stop offense and efforts during the 2015 and 2016 legislative sessions to make texting while driving a primary-stop offense failed to get a hearing. In all likelihood, similar bills will continue to be filed as distracted driving continues to be a major factor in car accidents resulting in injury and death.
While states have enacted laws, the CDC indicates research is needed to identify additional effective strategies for decreasing distracted driving crashes. For now, awareness and personal responsibility remain the most important factors in helping to reduce this costly and deadly phenomenon.
What You Can Do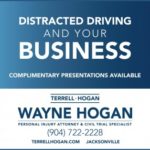 So, what can you do?  Turn your cell phone off or put it in the trunk, it'll still be there when you get where you're going and so will the list of missed calls. Don't be a passive passenger. Call any distracted driving activity to the driver's attention. Consider using one of the free distracted driving apps provided by many cell phone carriers and in the iTunes store. Consumer Reports reviewed and rated various apps that help reduce the temptation to text, talk, and email while driving. There are also apps like SAFELYGO that allow emergency numbers to be added to allow those calls to come through, but these should be very limited. Designate a passenger to handle any calls or use the phone for directions. Safely pull off the road if an emergency means you just can't wait to take or make a call.
Contact the Terrell • Hogan office for a complimentary Distracted Driving safety presentation for your club or organization or at your job.  We can all be a part of the solution to end the problem of distracted driving.