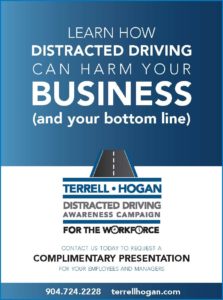 Wayne Hogan took his message, "one text or call can wreck it all," to the business community. This article about employers' liability with distracted driving accidents is featured in April's issue of Advantage Business Magazine.
In it, Hogan explores some of the legal consequences distracted driving accidents can have on a company's bottom line. From civil lawsuits to criminal manslaughter charges – when texting while driving claims a life – the stakes are getting higher for both employers and their workers.
He recommends employers have distracted driving policies in place and offers examples of such policies in a free Distracted Driving Awareness Presentation for the Workforce that's available to local businesses, civic groups and non-profits. Click here to book a presentation.