Alan Pickert advocated for siblings who were adopted.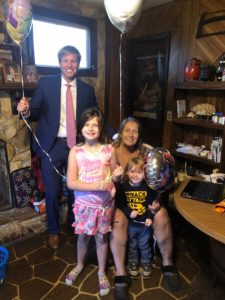 By serving as guardian ad litem to two siblings in foster care, Terrell • Hogan partner, Alan Pickert, was thrilled to be part of a team that culminated with the brother and sister's adoption into a loving family. Nine-year-old Cylie and her two-year-old brother, Cayden, were neglected by their biological parents, placed in foster care, and now have a chance to excel in life with their new family.
Since living with their foster mother, Rhonda, ten months ago, Cylie and Cayden have blossomed. Last week, she officially adopted them.
Difficult Childhood
The children had a rough start in life. For example, while living with her biological mom, Cylie was forced to repeat first grade three times. The first year she was home schooled poorly by her mother, the second year, she missed too many days of school due to her mother's negligence. 
Foster Mom
However, midway through first grade the third time, Cylie was placed with foster care and her foster mom. Once Rhonda became the children's foster mom, Cylie had an impeccable attendance record and caught up with the help of a tutor. Now she is in second grade and thriving. She learned how to swim this summer thanks to Rhonda's care. "Cylie is a bubbly, happy little girl who has come out of her shell because of the love she's received. And Cayden is the happiest little two-year-old you will ever meet who gives priceless hugs," Alan said.
Guardian Ad Litem
As the children's guardian ad litem, Alan was their court-appointed advocate while they were in foster care. He was their voice. Guardian ad litems do not need to be attorneys; they are just volunteers who want to make a difference in kids' lives. "After caregivers, a guardian ad litem is the most important and consistent person in foster kids' lives," said Danielle Livingston, who manages Duval County's Guardian Ad Litem program. Several times a month, Alan either called or visited Cylie and Cayden at their foster home, met with their teachers and the people in their lives to check on them, resolved any issues, and reported back to the court.
Alan received the prestigious Lawyer of the Year in Florida in 2017 for both his successful track record inside the courtroom with asbestos, mesothelioma and other types of personal injury cases as well as his involvement outside the courtroom volunteering for four nonprofits, including two that help autistic children and the homeless. After receiving the honor, Judge David Gooding asked him to volunteer even more and consider being a Guardian Ad Litem for foster children. According to the Fourth Judicial Circuit Guardian ad Litem program, 304 volunteers serve as guardian ad litems in Clay, Duval and Nassau Counties, representing 1,154 children in foster care, but more are needed .
For Alan, the highlight of being Cylie and Cayden's guardian ad litem was helping facilitate their adoption. "Being involved in their lives is so rewarding. With all the challenges they've experienced at their young ages, and to see them thriving now, it makes you realize how small your problems are and how good you have it," he said.
Love is all You Need
According to the Florida Department of Children and Families, more than 800 Florida children are waiting to be adopted. "You don't have to be perfect to be an adoptive parent, all you need is love," Alan said.
Helping Adoptive Families/Foster Families
When foster children are adopted, the State of Florida provides the children with free health insurance through Medicaid, free college through a public Florida university, a monthly stipend for living expenses and therapy services.
Ways to Help
Despite assistance from the state, families who adopt or foster children often need help. If you wish to help a child in need, you may fund things such as dental appointments, music and art lessons, sports, school supplies and camp. With Cylie and Cayden, the Terrell • Hogan law firm has made a donation to help them as they begin a new chapter in their lives. After learning about their adoption on social media, one former client even offered to buy the kids clothes for Christmas as presents. Alan plans on being involved in the children's lives for years to come. "The entire family are rock stars if you ask me. Rhonda, Cylie, Cayden and the rest of the family are just fantastic, but more importantly, these kids now have a chance to excel in life" Alan said.  
Support Continues
The lawyers and staff of Terrell • Hogan plan on supporting foster children, as well as all the firm's other charitable endeavors, for decades to come. "It is important to us as leaders in the community to make sure we assist others in need," said founder Wayne Hogan. "We are here to help as many people as we can."   
Florida Times-Union, Jacksonville woman, 2 children get each other for Christmas; guardian ad litem helps make it happen
Florida Bar News, Lawyer's Guardian Ad Litem Work Helps Two Children Find A Forever Home
Jax Daily Record, Guardians ad Litem: A change for a successful future
WJCT, COVID Vaccine Arrives In Jax; Guardian Ad Litems; Obamacare; Chef Ned Pollack