Dr. Loren Clayman receives 'slap on the wrist' at disciplinary hearing.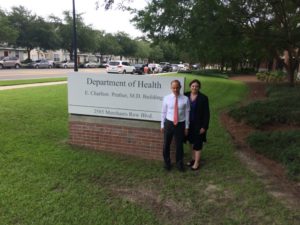 Plastic surgeon Dr. Loren Clayman, who is the subject of litigation over alleged botched surgeries and a breast implant warranty scheme, appeared before the Florida Board of Medicine on Friday for a disciplinary hearing; it was a miscarriage of justice for women.
264 Combined Complaints
I filed what has to be the largest complaint in the history of the Florida Department of Health against Drs. Loren and Mark Clayman. Out of 264 combined complaints filed, the DOH staff brought only one complaint against Dr. Loren Clayman to be heard by the Board of Medicine.
Weak Settlement
The DOH did not recommend revocation or even suspension of Dr. Loren Clayman's license. Instead, it recommended – and the Board of Medicine approved – a settlement that cited Dr. Clayman for poor record-keeping and allows him to get away with a $5,000 fine, reimburse the DOH $9,188.87 for investigation costs, and take some basic continuing medical education courses. My clients and I believe anything short of revoking Clayman's medical license is unacceptable.
Missing Evidence?
I filed my 264 clients' claims in a single complaint and provided the DOH with more than 10 banker's boxes full of records, documents, photographs, charts, and a video. It took years to get a response from the DOH.
Last August, I finally received notice that, despite everything submitted on behalf of my 264 clients, the DOH staff was presenting only record-keeping violations involving only one patient. The DOH never explained why the combined complaint was severed into 264 smaller individual complaints, what happened to the major allegations of fraud and malpractice, or why only one victim's allegations were pursued. I fear most of the materials I submitted are no longer in the file.
Missing Whole Picture
This is a sad day for women in Florida. If the Board had heard from other victims and seen some of the critical evidence I provided to the DOH, I expect it would have rejected the DOH's weak deal with Clayman. The Board of Medicine could not do its job properly when it was only shown a tiny fraction of the evidence. The settlement fails to protect future patients by allowing Clayman to keep wielding a scalpel. This perpetuates a public health threat and puts women in immediate danger.
First Coast News: Lawsuits filed against popular plastic surgeons