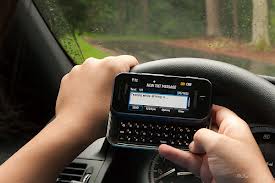 Distracted driving is an epidemic on our nation's roadways . Each day, 15 people are killed and 1,200 are injured in crashes involving a distracted driver.
That's why we have compiled this listing of smartphone apps for you to consider that will help you stay safer on the road. One caveat: we have not evaluated all of these apps, and some of the details about them may change. That's why we are providing links for your convenience so you may obtain the most current information.  Feel free to alert us about other apps that are helpful in preventing distracted driving.
Currently there are not many apps for iPhones.  However, Apple just released iOS6 and with it a Do Not Disturb button. When the DND is enabled, calls and alerts that arrive while your phone is locked will be silenced and a moon icon will appear in the status bar.  You can use the notifications settings to allow calls from your favorites and set scheduled times for your DND to be activated.
AT&T DriveMode
AT&T"s website says: Free to AT&T Blackberry and Android users. The app turns on automatically once your vehicle starts moving 25 m.p.h. Anyone who tries to text or email you will receive an auto reply message telling them you're currently driving and that you will get back to them soon. All calls will automatically be sent to voicemail; however, the user can identify five numbers that can always be called, and 911 calls are always allowed.
http://att.com/gen/pressroom?pid=2964&WT.srch=1&wtPaidSearchTerm=at+and+t+texting
Cellcontrol
Cellcontrol"s website says: Instead of using GPS to determine vehicle movement, Cellcontrol uses Bluetooth-enabled technology that directly integrates with the vehicle's onboard diagnostics to determine motion and implement policy. Compatible with more than 1,000 devices, Cellcontrol disables more than the cell phone; it also prevents distracted driving from other mobile devices, including laptops and tablets, which may tempt drivers to take their eyes off the road.
http://cellcontrol.com
FleetSafer Mobile
FleetSafer Mobile is an application designed by Aegis Mobility specifically for commercial fleets and is flexible to enforce most corporate distracted driving policies. FleetSafer Mobile can be triggered either by telematics, Bluetooth, or GPS systems.
http://aegismobility.com/distracted-driving/fleetsafer-products
DriveSafe.ly
DriveSafe.ly"s website says: This is a mobile application created by iSpeech that reads text messages and e-mails out loud in real-time and automatically responds without drivers touching the mobile phone. It's available for Blackberry, Android, iPhone and Windows-powered mobile phones. Price per phone is $13.95 annually or $3.99 per month for a single user and $34.95 annually or $9.99 per month for a family of four.
http://drivesafe.ly
iZUP App
iZUP"s website says: Developed by Illume software, iZUP holds incoming and outgoing calls, texts, and e-mails when it detects that users are moving faster than 5 mph. Drivers are allowed to pick one application, such as navigation, when iZUP is on, while the administrator is equipped to monitor compliance, edit settings, and receive alerts online. iZUP is available for Blackberry and Android devices for $2.95 per month.
http://getizup.com
On the Move
On the Move"s website says:  This is a free application for Android phones that is the first insurance-sponsored application to battle text messaging while driving. A driver must activate the app themselves before driving. The app replies to text messages with a pre-customized response.
http://autoblog.com/2010/08/20/irony-police-state-farm-releases-texting-app-to-curb-distracted/#continued
Safely Go
Safely go is your one-click ticket to distration-free driving: 
Allows only calls and texts only from your 3 "VIP Contacts" (like your family or boss)

Tells everyone else you're on the road and driving safely, through automatic text replies

Enables calls through your Bluetooth or other hands-free device

Gives you access only to your top 3 "Driving Apps" (like maps, navigation, or music)
Safely go can also keep you focused on more than just the road:
Lock your phone to minimize distractions during meetings, class, and family time

Practice "digital wellness" by being in control of your phone, not "compelled" by it

Work and play better, by concentrating on being where you are, while effortlessly letting contacts know you'll get back to them soon
For more details on the entire Safely Family Essentials™ suite of apps, visit www.safely.com.
Sprint's Drive First
Sprint's website says: Available for $2 per month, Sprint's Drive First application disables some of the phone's functionality when it detects a user driving over 10 mph. It locks the driver's cell phone screen and redirects calls to voice mail, while allowing access to three key contacts and three mobile applications, such as GPS navigation. It also blocks text message alerts and auto-responds to the message sender that the driver is currently unavailable.
Parents have power to set phone controls and business administrators' online access to configure the Drive First app for employees' mobile devices.
http://sprint.com/focusondriving
T-Mobile Drive S

mart Plus
T-Mobile"s website says: Designed for T-Mobile customers with Android smartphones, it sets phone into "driving mode" and sends incoming calls directly to voicemail and preventing access to text messages, except through applications specified by the customer. $4.99 a month on up to 10 T-Mobile lines.
http://engadget.com/2011/01/19/t-mobile-intros-drivesmart-plus-service-to-block-texting-while-d
Textecution
Textecution"s website says:  Once Textecution recognizes that the phone is traveling faster than 10 mph, it disables the phone's texting features so text messages cannot be sent or received. The app is available for Android devices for a one-time cost of $9.99.
http://textecution.com
Text No More
Text No More's website says: A Free application which also supports  organizations that benefit families of victims that died while texting and driving. The app allows the driver to choose when the software will block calls and texts. Calls will still come through if Bluetooth is detected. It also gives Amber Alerts for missing children and it rewards drivers for activating cell blocking system with local merchant deals.
 The user downloads the free application to their smart phone, which is available on the Android and Blackberry market as well as the Text No More website. An iPhone app is scheduled to be out in early 2013.  Prior to driving, the user activates the Text No More application and selects from a list of set times or manually inputs their estimated driving time.  Once the Text No More application is enabled, an image of a missing child is displayed, followed by a reward from one of our Text No More Partners. The reward is held in the user's database until they go to redeem it.
Safe Text Sender
When you receive a text or call, Safe Text Sender automatically alerts the sender or caller that you are driving and using "Safe Text Sender" app to respond. When you reach your destination, you can safely read and reply to your missed calls and messages. Available for Android Phones and costs $.99.