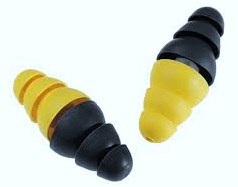 Soldiers and veterans across the United States are filing claims alleging their hearing was damaged due to defective tactical earplugs made by the 3M Company (3M).
Government Lawsuit
3M sold the dual-ended Combat Arms Earplugs, Version 2 (CAEv2), to the U.S military for more than a decade. The U.S. Department of Justice went after 3M and it agreed to a $9.1 million settlement over the defective earplugs.
According to the government's lawsuit, 3M employees allegedly were aware of the earplug defects as early as 2000, but continued selling them to U.S. military personnel. The suit alleges the earplugs were too short and did not fit into users' ears properly, causing them to loosen and expose wearers to loud noise.
3M sold the defective earplugs to the military until 2015, when the product was discontinued. However, the earplugs were never recalled so they may still be in use. Documents from the lawsuit show that for 15 years, 3M was aware that the dual-ended Combat Arms Earplugs, Version 2 were defective, but sold them for use by U.S. military personnel in combat situations across the globe.
The fraud 3M perpetrated on the U.S. military has resulted in permanent, life-changing injuries to combat veterans throughout the United States. 3M's payment to the government does nothing to help the thousands of soldiers who have suffered permanent hearing damage because they were issued and used these defective earplugs.
Veterans Who May Be Affected
Soldiers and veterans who served from 2003-2015 may be affected.  If you were issued the dual-sided Combat Arms Earplugs™ (CAEv2) for hearing protection, and were exposed to artillery fire, exploding bombs or ordnance during your term of service and have suffered hearing loss, tinnitus, or inner ear balance issues, you may be entitled to compensation.
At Terrell • Hogan, we represent the injured as they seek justice.  It is important to consult with a personal injury attorney experienced in product liability cases, who has the resources to vigorously pursue justice on your behalf.  Consider contacting our case manager, U.S. Navy veteran Joseph Jones, LT, USN (LDO Law) Retired.