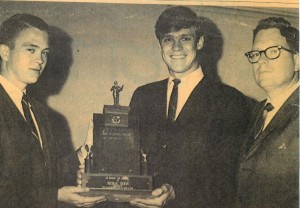 With the motto "Service Above Self" Rotary Clubs encourage and foster the ideal of service as a basis of worthy enterprise and, in particular, to encourage and foster opportunities for service and improving the community.
At a 2015 Palatka Rotary discussion of scholarships for St. Johns River State College, former Dean of Students and Interim President, C.L. Overturf, spoke of having been a part of the college and seeing the impact of scholarships. "Lots of students do not get encouragement from parents because they do not recognize the need like the rest of us do. I received a note two days ago from a young man to whom we gave a scholarship. In order to earn his associates degree at St. Johns River Community College, he had to ride the bus from St. Augustine; that persevering student, Wayne Hogan, is today a successful attorney in Jacksonville. He continues to stay in touch with me."  Mr. Overturf said that Wayne's life story is a perfect metaphor for the purpose and goals of Rotary.
By coincidence, Dianne Taylor, wife of club president, Bob Taylor, knew Hogan from her days working with the legal community in Jacksonville and she invited Wayne to speak at the April meeting.  A graceful touch was added when Mr. Overturf volunteered to introduce Wayne to the Rotarians and shared a bit of history on their acquaintance that blossomed into a lifelong friendship.
In his talk, Wayne shared stories of mentors like C.L. Overturf who lifted him along the way – and how they led him to a career of practicing law, and his work holding tobacco and asbestos companies accountable for causing disease and death.  Wayne had been the founding president of the Rotary-sponsored Interact Club at St. Augustine High School and noted the importance of giving back as reflected in the work of the Rotary Youth Leadership Awards (RYLA) program emphasized during the luncheon by Rotarian Jim Surrency, executive director, Northeast Florida Educational Consortium.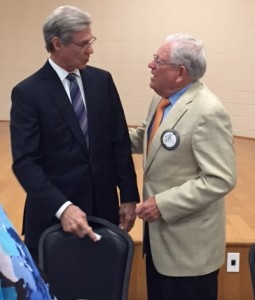 Wayne and Pat Hogan's decision to endow scholarships for St. Johns County high school students and St. Johns River Community College students was shaped by Wayne's own experience in Florida's public schools.  After St. Augustine High, Wayne enrolled at St. Johns and, as Dean Overturf told the assembled Rotarians, began his college career by taking a school bus to classes in Palatka 30 miles away.  After graduation, he transferred to FSU, earned first a bachelor's degree in economics and then a law degree from Florida State's College of Law. The scholarship fund for high school students is named for W. Douglas Hartley, the late, long-term Superintendent of Schools in St. Johns County. The scholarship fund for St. Johns River Community College graduates is named for C.L. Overturf, the former Dean of Students and Interim President, who founded and coached the highly successful St. Johns debate program. To date over 40 students have received C.L. Overturf Scholarships.
Dianne Taylor said that Wayne's message was one of the finest programs the Club has experienced. Wayne was plainly glad for the opportunity to share the influence Dean Overturf had on him and his future.  Because of such influences, Wayne is strongly committed to public service and believes giving back to the community is an important part of professional responsibility.