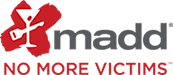 Mothers Against Drunk Driving (MADD) Northeast Florida commended and gave thanks to law enforcement officers and others in Northeast Florida for excellence in drunk driving prevention and enforcement. For more than 20 years MADD has hosted this event devoted to MADD's lifesaving mission to stop drunk driving, support the victims of this violent crime and prevent underage drinking. Wayne Hogan was pleased to be the Gold Star Sponsor.
The funds raised underwrite the event and enable MADD to provide more crucial services and resources. Sworn officers from Alachua, Baker, Bradford Clay, Duval, Marion, Nassau, Putnam, and Volusia counties and cities and Florida Highway Patrol were honored for their work in fighting drunk driving. WJXT Channel 4 (Rob Sweeting accepted) was also honored with the group's Triad award which is given to an organization that demonstrates community involvement, awareness of the cause and compassion for the victims of drunk driving. Community volunteers were also honored, as was Third Circuit prosecutor, John Weed.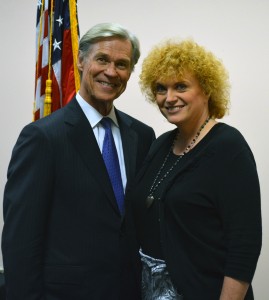 MADD continuously engages the public and private sectors to tackle the problem of drunk driving fights the growing problem of drugged driving. It's paid off. Since 1980, MADD has saved an estimated 300,000 lives due to their work in the courts, legislature, on the roadways and in our schools and communities.
However, there's still work to do. Driving a motor vehicle under the influence of alcohol or controlled substances (DUI) is a major contributor to fatalities and serious injuries on Florida's highways. Too many drivers on Florida's roads and highways are behind the wheel on drugs – both legal and illegal ones.
In his Guest Speaker remarks, Hogan recounted MADD's history of civic engagement for the public good, illustrated by the chapter on MADD's anti-drunk driving work in Senator Bob Graham's book America, The Owner's Manual. Hogan then identified a newer threat: distracted driving. It's an epidemic. For 35 years MADD has exemplified the gold standard approach to tackling drunk driving. He noted that today's distracted driving prevention efforts follow much of MADD's model in working effectively against drunk driving.
Hogan also introduced Bruce Anderson, who joined him at the event. Before joining Terrell • Hogan, Bruce was an Assistant State Attorney in Jacksonville and prosecuted many misdemeanor and felony DUI cases. As an attorney, he has represented victims of accident caused by DUI offenders and successfully prosecuted numerous cases against the offenders as well as retail establishments that negligently sold alcoholic beverages to underage DUI offenders and adults who hosted "house parties" and served alcoholic beverages to underage DUI offenders. Bruce is a candidate for Circuit Court Judge in Clay, Duval and Nassau County. With his significant and noteworthy criminal and civil trial experience, he'll be a great addition to the Circuit Court bench.
Combatting drunk driving is a community effort and our firm appreciates being able to celebrate those honored and thanking them for the great work they do to help keep our roadways safe.