Johanna McCracken was awarded the 2012 W. Douglas Hartley Scholarship by Wayne Hogan at a special awards ceremony for St. Augustine High School seniors.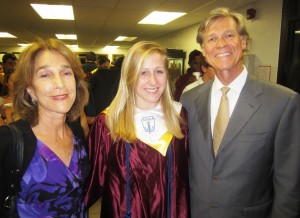 Ms. McCracken will attend The University of Florida this fall, where she'll pursue a degree in environmental engineering. The scholarship provides up to four years of state university tuition and a stipend for books. "I am overjoyed," McCracken said. "I can't explain what this means to me. So much stress has been lifted off me and my family. I am so grateful."
McCracken graduated summa cum laude with honors. An aspiring environmental engineer, she hopes to one day use her degree to create social change in a third-world country by volunteering with Engineers Without Borders.
Established 13 years ago by attorney Wayne Hogan and his wife, Patricia, the scholarship honors the legacy of the late W. Douglas Hartley, St. Johns County's long-term superintendent who provided students with the best educational opportunities and made it his mission to know every student on a personal level. "He brought the public schools of St. Johns County into a modern era as the civil rights movement helped create a new South, and set it on the course to becoming the most successful school district in the state," said Wayne Hogan, a 1965 St. Augustine High School graduate.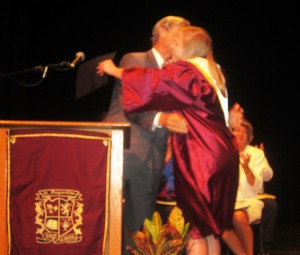 The W. Douglas Hartley Scholarship is awarded each year to a St. Augustine High School senior who has done well academically, demonstrates financial need and does not smoke or use tobacco products.
Since The Wayne and Patricia Hogan Endowment was established in 1999, The W. Douglas Hartley Scholarship has helped 71 St. Johns County public school graduates attend college.