Over twelve hundred people attended and close to $60,000.00 was raised at the recent HEAL (Healing Every Autistic Life) Zoo Walk on April 21. HEAL is a local nonprofit organization that was founded in 2007 to assist the families of children on the First Coast diagnosed with autism spectrum disorder, a devastating neurological and biological condition that now affects 1 in 50 children at varying levels of severity. Tragically, more children are diagnosed with autism today than with childhood cancer, leukemia and pediatric AIDS combined. Individuals are primarily affected in four key areas: communication, social skills, behavior, and learning.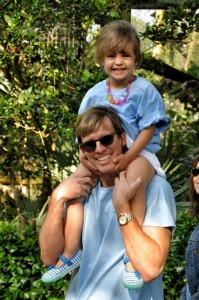 Thanks to the Terrell • Hogan law firm, children twelve and under attended the HEAL Zoo Walk on a complimentary basis. "Our firm underwrote the costs for children's admission because we felt it was important to make the event affordable for families to attend," said HEAL President and Terrell • Hogan partner, Alan Pickert. "We truly believe in HEAL's mission to assist families and families living with autism, we were thrilled that a record number of participants came out to support the event on Sunday, April 21."
Through fund raising events like the HEAL Zoo Walk and the contribution of individual and corporate donors, like the Terrell • Hogan law firm, HEAL has contributed over one million dollars in grants to local autism related camps, support groups, seminars and schools that provide therapy and support services for children with autism and their families, with an emphasis on families that can not afford the high cost associated with autism. HEAL also spearheads autism advocacy by educating parents, care givers, teachers, health care providers and the medical community on issues related to the care and treatment of children with autism.
"The entire law firm of Terrell • Hogan got behind this important event," said Alan Pickert. Whether it be through donating time, money, walking in the Zoo Walk, or some combination, every member of the Terrell • Hogan law firm participated in some way in order to make this years HEAL Zoo Walk a memorable one for everyone in the autism community.