As in years' past as part of their holiday tradition, the Terrell • Hogan family came together to support a very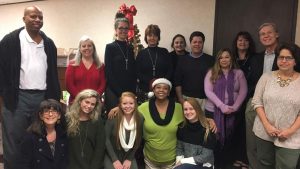 important group of people. One of our staff was asked by a military mom to send a care package to a soldier in Afghanistan. The mom said that some of these soldiers are as young as 18 and don't have a support system at home. When it was suggested that the firm try to send more than just one care package, it was game on. "The personal sacrifices made by our service men and women, in addition to their willingness to fight in defense of our nation, merit our deepest respect. I was honored to be a little part of sending our soldiers a taste of home and a bit of Christmas cheer this year" said Terrell • Hogan paralegal and co-organizer, Sarah Buckland.

What started as an idea to send one box, became a box for every soldier and several overflow boxes to be shared by all. Everyone needs something to remind them they are thought of during the holidays and our troops need to know we care. "What started out many years ago as a "team building exercise" has become a tradition the firm looks forward to," said Alan Pickert, Terrell • Hogan Partner.
The care packages were sent to an Army platoon serving in Afghanistan. Most everyone knows someone who serves and it's important to show them there's a community that supports them back home. The boxes were packed full of snacks,
toiletries, candy, books, magazines, a personalized ornament with the troop member's names, letters and cards from many at the firm. "It's a privilege to show our troops some holiday spirit. Our office did an amazing job supporting our military for the holidays, and I am honored to be part of it," said Cynthia Ali, firm paralegal and co-organizer.
Many in the firm said this year's event was their favorite one by far. Everyone at Terrell • Hogan sends their heartfelt appreciation to all the military members serving and their family at home for the great sacrifices they make every day for our nation. During this season of giving, be sure to thank our military members and their families because while they are thousands of miles away defending our freedoms, we should all do our part to give them peace of mind that they are appreciated and cared for.
Happy Holidays!