People who ride bicycles are put in jeopardy when trying to ride across open metal grating bridges, sewer grates and storm drains. Metal grating bridges may have gaps between grating sections which can swallow bike tires. The grating itself can be slippery.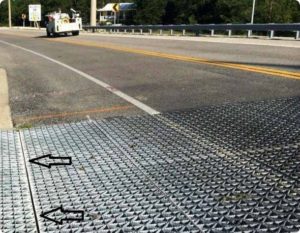 This photo shows one particularly dangerous gap – large enough to engulf a road bike tire – in metal grating on State Road A-1-A in the Florida Keys. Storm drains can have linear gaps that are the perfect size to devour a narrow road bike tire.
In the 1940s and 50s, it seems that thousands of steel grating bridges were constructed because steel was cheap, water didn't seem to collect on the driving surface, and the bridges swayed less in the wind than with solid surfaces. However, years and years of bicycling accidents should have taught state and local governments that steel gratings are dangerous for cyclists.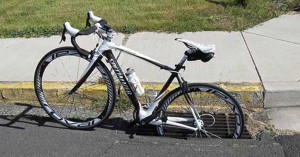 There have been numerous accidents around the U.S., including in my state, Florida, involving injured bicycle riders who slipped or fell on metal gratings. It is time for our state and local governments to accept responsibility for these bicycling road hazards, and take action to alleviate the danger. State departments of transportation and local public works departments should replace dangerous sewer gratings and storm drains with ones which are more safe for cyclists. Metal grating bridges should be renovated to improve their safety for people who ride bikes.
There are anti-slip metal plates that can be retrofitted on the bridges for cyclists. Alternatively, the area of the metal grating which is used by bicyclists can be filled in with solid material. Drain covers like the one above can easily and cheaply be replaced with bicycle safe designs.
On October 28, 2007, a man was paralyzed after falling off his bicycle. He had been attempting to ride across the metal grating Montlake Bridge in Seattle, Washington. His bike tire got caught in a gap between two steel grates. During the course of the ensuing lawsuit, it was revealed that engineers and bridge inspectors were aware of the danger 8 years earlier than the 2007 accident – in 1999 another similar bicycling crash had taken place. The Washington Department of Transportation had been aware of the earlier crash, and had done nothing about it. The Seattle attorney brought a lawsuit against the WDOT. It was later settled for $8 million.
In 2004, the Chicago Department of Transportation hired an engineering consulting firm to inventory and evaluate its metal grating bridges and their danger for bicyclists. The consultant's report stated, "These metal grate bridges…can be difficult and intimidating for a bicyclist to cross. Depending on the type and direction of the grating, grooves can cause a "channeling effect" or "sliding" for bike tires, and narrow tires can be lodged in gaps between the bridge grates. In addition, the metal can become increasingly slippery when wet, making these bridges even more difficult for bicyclists to safely cross in rain or snow."
While recommendations were made to improve the safety of certain priority bridges evaluated, most of the bridges have not been made safe. Chicago has 28 metal grating bridges. In the last 2 years, the Chicago DOT installed anti-slip metal deck plates on 3 bridges. But Chicago has 25 bridges remaining to improve. This explains the need for what was written in the written "Bike 2015 Plan – City of Chicago", which states :
Chapter 1
Objective Six: Prioritize ongoing maintenance and repair of the bikeway network.
Strategies: 6.5

Retrofit metal grate bridges to make them safer for bicycling. Grooves on some metal grate bridges can cause bicycle tires to pull, creating a "channeling effect," making bicycling uncomfortable, even dangerous. Also, under wet conditions, the metal grates can become slippery, especially for narrow bicycle tires.

There is an ongoing controversy about the perilous metal grating bridges in South Florida. One blogger recently wrote, "How many more cyclists need to be sliced and diced on cheese grater surface before FDOT is motivated to improve safety with nonslip bike lane?" When describing the danger for cyclists with South Florida's metal grating bridges, the blogger wrote, "There have been numerous cases of cyclists slipping and falling on our drawbridges. Many have been seriously hurt, endured pain, suffering, costly medical bills and damaged or totaled bikes." But so far, the Florida Department of Transportation has done nothing this author knows about to improve the bridges' safety for cyclists.
Metal grating bridges, storm drains, and sewer grates should be replaced and renovated. Until all are made completely safe for people riding bikes, warning signs should be installed in advance of these hazards to alert cyclists to the pending danger. Sadly, very, very few places have signs posted. But here are some pertinent warning signs posted around the U.S. (not all the signs are specifically intended for bicyclists or for metal grating):
It is almost expected that our government and elected officials speak about how important and beneficial it would be for our citizens to walk and bicycle at much greater levels, and to reduce our dependence on automobiles. There would be tremendous health benefits, reduced pollution, less expensive transportation facility expenses, less dependence on foreign fuel, as well as huge improvements seen in our quality of life. One way to incentivize bicycling, more important than any other method, is to provide safe, accessible facilities for bicycling. To that end, metal grating bridges, storm drains, and sewer covers must no longer be threats to people who choose to ride bicycles.