Terrell • Hogan is excited to have Leslie Scott Jean-Bart join our firm.
"Leslie is a dedicated advocate for her clients and she is committed to serving our community through many civic and volunteer endeavors," said Wayne Hogan, Terrell • Hogan President. "She will be a valuable member of our team."
After earning a Bachelor of Science degree from the University of Miami and a Juris Doctor from the University of Miami School of Law, Leslie joined Legal Services of Greater Miami, preserving affordable housing for the working poor before joining Sheppard, White & Thomas, P.A., where she handled employment discrimination, civil rights, and education cases. For more than a decade, she focused her practice on helping injured consumers obtain justice as an attorney at Farah & Farah, P.A. before opening the Jean-Bart Firm, P.L.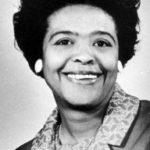 Leslie's life-long interest in community service was inspired by her late grandmother, Mary L. Singleton, the first black woman elected to Jacksonville City Council who later became a state representative. She's chaired the annual Mayor of Jacksonville Mary L. Singleton Memorial Breakfast, a tribute to her grandmother's legacy, and served on both the Jacksonville Ethics Commission and the Florida Elections Commission. She now serves on The Florida Bar's Judicial Nominating Procedures Committee.
Leslie also serves on the boards of Three Rivers Legal Services, Jacksonville/First Coast League of Women Voters, Northeast Florida Community Action Agency, the Florida Justice Association and is chairperson of the Jacksonville Black Chamber of Commerce. She also volunteers as an Attorney Ad Litem for foster children.
She is a member of The Florida Bar, State Bar of Georgia, American Bar Association, Jacksonville Bar Association, American Justice Association, Jacksonville Women Lawyers Association and is past president of the D.W. Perkins Bar Association.
A fifth generation Jacksonville native, Leslie is married and has a daughter.