Contacting our Office
When you call us about an injury or death, you'll most likely speak with our caring experienced client relations manager, paralegal Joseph Jones. For a decade, Joe has carefully listened to our new clients about what happened to them and their families. By understanding each potential case, Joe is able to work with Wayne Hogan, Terrell • Hogan President, to match a client with the background and experiences of our attorneys. He helps with legal research, investigations and witness interviews before matching a client with an attorney. Even if it is a matter our firm cannot assist with, he helps callers reach appropriate attorneys, firms or agencies.
Joe is an invaluable member of the Terrell • Hogan team. He is passionate about our clients, the law and our state and nation's system for providing justice. "I love the law and I love what I do," Joe said. "It gives me great satisfaction in helping people. Often callers say, "Out of all the firm's I've called, you are the first person to really listen."
U.S. Navy Service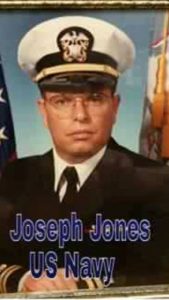 His extensive legal experience began with his 26-years of service in the U.S. Navy, where he started with an engineering rating, but early in his career transitioned to the Yeoman rating and later to the newly created Legalman rating. Rising to the rank of Senior Chief Legalman, he served as a court-reporter, office manager and discipline officer at several commands.
He was then commissioned as a Chief Warrant Officer, serving as the Administrative and Budget Officer for the Naval Legal Service Office in Naples, Italy. When the U.S. Navy created the Limited Duty Office Law Program he was one of the first of seven selectees to be selected. At his request, and although not a lawyer, he attended the Naval Justice School lawyer class, graduating 8th in his class of 45 attorneys. He then served as a trial counsel at the Naval Legal Service Office in Mayport, Florida where he tried more than 200 special courts-martial cases and several general court-martial cases. Joe completed his naval service as the first non-lawyer Command Judge Advocate for Naval Station, Mayport, Florida. He was the first Limited Duty Officer (Law) to hold this position.
By the time he retired from the U.S. Navy, he had achieved the rank of Lieutenant. After retiring, he put his legal expertise to use on the civilian side as a paralegal for a local personal injury firm before joining the Terrell • Hogan personal injury and wrongful death legal team.
"Because of his background, training and experience, Joe is consistently able to help our clients understand what is happening and clarifies legal issues that can be confusing to non-lawyers," said Wayne Hogan. "Joe has a direct line of communication with our attorneys and sees to it that our clients' questions are addressed. Personal injury and wrongful death cases present our clients with new challenges requiring important decisions. Working with our attorneys, Joe always provides our clients with a comforting approach and wise practical counsel at such difficult times."
When Joe isn't helping clients, he enjoys spending time with his wife and family, which includes 17 grandchildren and four great grandchildren, but his favorite past time is hitting the links. He recently checked off one item from his bucket list items – attending the Masters in Augusta.