Wayne Hogan is proud to help support the Hope And History Mural Project. The Mural Project is helping young leaders grow and learn about leadership through the history of Jacksonville's 1960 Sit-Ins and Ax Handle Saturday and commemorates the story on the Historic Eastside Neighborhood.
The University of North Florida's Center for Urban Education and Policy's (CUEP) Hope and History Mural Project is a multigenerational, University-community partnership. CUEP worked with 25 Duval County Public Schools secondary students from diverse backgrounds to study the Civil Rights Movement in Jacksonville in order to examine the importance of collective leadership and the contributions of youth voices to create and sustain community change. More specifically, this innovative collaboration of the Hope and History Mural Project was built around the quintessential local story about the power of public education: Jacksonville's youth-led 1960 Lunch Counter Sit-Ins and Ax Handle Saturday.
Working together, CUEP Director Chris Janson, Assistant Director Rudy Jamison, Jacksonville Civil Rights icon and leader of the 1960 Sit-Ins Rodney L. Hurst, local artists and educators, The Eastside Brotherhood, and the Historic Eastside, or "Out East" neighborhood community members educated the students as they explored community challenges of racism, inequity and injustice, and gentrification within the spirit of hope, personal and collective agency, and love.
The first phase of this CUEP project is now complete with the creation of a powerful learning artifact: a stunning mural representing the 1960 Sit-Ins and Ax Handle Saturday on The Eastside Brotherhood building. This mural memorializes this powerful story and the youth leadership that made it happen, while honoring the Historic Eastside community.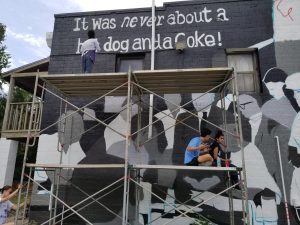 The mural will be officially unveiled on Saturday, August 25th, as part of a program led by Rodney L. Hurst, Sr. recognizing the 1960 Lunch Counter Sit-Ins and Ax Handle Saturday. This program will begin at 1:00 pm in Hicks Auditorium, Main Library, 303 N. Laura St. Following the program downtown, a short dedication ceremony will officially "unveil" the mural at 4:00 pm at The Eastside Brotherhood building, 915 A. Phillip Randolph Blvd.
At Terrell • Hogan we are strongly committed to public service and believe that giving back to the community is an important part of our professional responsibility. We believe by giving back we help make Northeast Florida a better place to live.