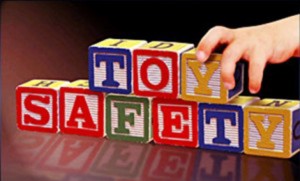 Ads are running, store decorations are up; signs that the stress of Holiday shopping has returned. That stress is minor though when compared with the tragedy that can come from a toy that turns out to be defective and causes a child's injury or death. The supply of toys seems unlimited, so finding out if a toy has been recalled is well worth it. And, it can be done – before you go to the store or shop on-line.
WJXT News: Dangerous Toys
The U.S. Consumer Product (CPSC) reported over 265,000 toy-related injuries treated in emergency rooms in 2012. The Safety Commission strongly recommends that holiday season gift buyers be on the lookout for recently recalled toys and children's products that pose safety threats. Before purchasing any toy, you can simply check the recall list to see if the toy is known to pose a hazard. These days, you can check it on your mobile phone, right there in the store.
Click here for the Safety Commission's Toy Recall Link. Many consumer groups have sampled toys and put out lists of toys they consider dangerous. The U.S. Public Interest Research Group annually lists inexpensive but dangerous toys in its 29th annual "Trouble in Toyland" report.  Safe Kids' website is also a good resource for age appropriate toy safety and recalls information. And, World Against Toys Causing Harm (W.A.T.C.H.) regularly publishes their list of ten worst toys.
Speaking of W.A.T.C.H., it was founded by a trial lawyer who worked for decades against dangerous toys. When I began representing consumers in asbestos and other products liability cases, one of the lawyers already well-known in the field of defective products was Edward M. Swartz, a personal injury and wrongful death lawyer in Boston. In fact, as I write this, I have next to me my personal copy of his 1985, Proof of Product Defect, a book I used in doing just that, proving product defects in jury trials. Mr. Swartz made it his mission to protect children against dangerous toys. Each year he published and held press conferences highlighting the ten most dangerous toys and wrote the books, Toys That Don't Care and Toys That Kill. When Mr. Swartz died in 2010, The Washington Post quoted consumer advocate, Ralph Nader: "[Mr. Swartz] basically pioneered the whole area of toy safety. He documented it, he litigated it, he advocated for regulatory standards and recalls … and he engaged in massive public education."
There is still a lot of work to be done, especially in a world where so many toys and other items for children are, like other products, made in China and other parts of the world that do not have the safety standards we have here; this is reflected by toys with paint containing lead, cadmium, or other heavy metals. Sadly, 50%i of  U.S. toys are made in China, so what can be done to find safe toys?   One mother took action.  In 2011, Sarah Mazzone, a mother who was fed up with dangerous and defective toys from China founded MadeinUSAChallenge.com to help consumers find safe, green toys.
The CPSC recommends parents, care givers, daycare centers, and thrift stores be vigilant and get rid of previously recalled items such as older toys and products that pose hazards. This is especially important with older baby cribs, baby walkers, strollers and high chairs. This points-up that it is not just defective toys that can be dangerous; other products such as furniture, clothing and furnishings should also be checked for recalls. Click here for Resale Thrift Store Safety Information.
Also, parents, grandparents, aunts and uncles should be careful about where they buy. Thrift stores and yard sales can be spend-savvy places, but second-hand toys and other items for children may be broken or defective. Plus, without original packaging, age guidelines and warnings may not be there.
Every day, we at Terrell • Hogan, represent victims of personal injury and wrongful death as they seek justice, and lawsuits we have pursued have prompted safety changes.  However, that came after the incidents, accidents and injuries happened. We believe it is important to try to help prevent injuries and wrongful deaths. One way is to publish information about recalls of defective and dangerous toys.
Holiday shopping contributes to sharing the joy of the season with family and friends. Let's make it smart and safe. Be careful out there.