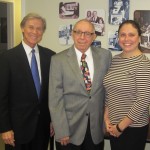 It was my privilege to be the guest speaker at Tobacco Free Jacksonville Coalition's monthly meeting at the American Lung Association's Jacksonville office. The invitation came from chairman, Harry Reagan, who is well-known to area residents for his many years leading WJXT Channel 4 and for his thoughtful editorials on the issues of the day.
I was asked to touch on several topics including an overview of tobacco lawsuits, the issue of preemption of tobacco legislation at the State level and e-cigarettes.
I shared with the group that in 1997, I was part of the legal team representing the State of Florida in its historic lawsuit against the cigarette industry on behalf of Florida taxpayers and children who were misled and harmed by decades of lies and deception about the dangers of tobacco and cigarette smoking. The lawsuit resulted in a $17 billion settlement, including removing all billboard advertising and retiring Joe Camel and the Marlboro Man in Florida. The settlement agreement led to significant changes in Florida's tobacco control laws.
We also discussed the controversy surrounding the State's preemption of tobacco legislation, making it difficult for local governments to take action to enact laws that regulate smoking in their communities. Citizens groups like Tobacco Free Jacksonville support repealing preemption at the State level, so there can be local control of smoke-free air. I shared with the group some ideas for potential action on this and other tobacco-related issues.
We also touched on what Centers for Disease Control and Prevention call ENDS. Ominously, ENDS stands for electronic nicotine delivery systems and includes e-cigarettes and other battery-operated devices such as hookahs, electronic cigars and vape pens.
As relatively new products, they are receiving a lot of regulatory attention. We don't know a lot about them yet and they need to be studied, including their potential long-term health effects.
There was talk that something like ENDS might have their best use as an aid to help smokers beat the addiction to nicotine and the cancer-causing contents of cigarettes. But these devices also expose young people to nicotine which has been the addictive drug that hooked so many smokers over the decades and has proved more difficult to get free of than many drugs that are addictive and subject to criminal laws.